Are you ready to take your innovativeness in whipping at a large scale to the next level? Get a food-grade nitrous oxide tank.
This is the best solution for hustle-free industrial cuisine. A cream charger that contains 580 grams of nitrous oxide or more is used to refill your whipped cream dispenser in the easiest and fastest way.
The innovatively designed food-grade N2O tank offers a time-saving cream charging experience. It has a much larger volume of N2O compared to conventional 8g cream chargers.  
What is Food Grade Nitrous Oxide?
This is a non-flammable, odorless, colorless gas, which is commonly referred to as laughing gas, Noz, or Whip-Its.
Main Uses of Food-Grade N2O Tank
Whipped Cream
Food grade N2O is used in food-grade whipping propellants as whipped cream cartridges or tanks.
In whipped cream cartridges and tanks, culinary-grade N2O dissolves in fat contained in the cream. When released from a whipped cream dispenser, the nitrous oxide expands to create a whipped cream mixture.
Because the highly pressurized food-grade N2O gas dislodges all the oxygen in the dispenser, the unopened whipper will never go rancid.
Recreational Use
Another common use of a food-grade nitrous tank is recreational.
When you inhale the N2O gas, it can make you feel relaxed and euphoric. This happy feeling is the reason why it is called laughing gas. Although, you might experience hallucinations.
But there's a bad side of this culinary-grade gas when used for recreational purposes. You may run a risk of death due to the lack of sufficient oxygen. The risk is usually greater if you use a culinary-grade N2O tank to fill balloons and use them to inhale the gas in an enclosed space.
Is It Illegal To Buy a Culinary Grade N2O Tank?
Selling or possessing food-grade N2O tanks for legitimate business purposes is not considered illegal.
But selling or using culinary-grade N2O gas for recreational purposes is considered illegal in the State of California. The gas is sold in balloons or whippets by drug dealers. While drugs like cocaine and heroin are classified as controlled substances, food-grade N2O isn't a controlled substance.
The gas, however, is being reviewed to determine if it is too toxic to be considered criminal to buy it in any form including tanks.    
How Dangerous is Food-Grade N2O Gas Sold in Tanks
The N2O sold in tanks for culinary purposes is considered safe when used in food substances when making whipped cream, desserts, and infusions.
But health concerns arise when the gas is used for recreation through inhalation. In addition to euphoric feelings and hallucinations, the gas can cause:
Dizziness
Passing out
Lowering of blood pressure
Anemia and B12 deficiency
Fatal loss of oxygen or hypoxia
Tingling sensation and nerve damage
Long term use of the gas for recreational purposes could also lead to the following negative effects:
Ringing in the ears
Limb spasms
Numbness in feet and hands
Weaken immune system
Psychosis
Psychological dependence
Depression
Incontinence
Memory loss
Food Grade Nitrous Oxide Tank Near Me
The best place to buy food-grade N2O tanks near you is online at the GreatWhip website.
GreatWhip provides premium quality 580g N2O tanks. We maintain the largest manufacturing and supplying of the purest grades of food-grade nitrous oxide tanks in China. Unlike conventional brands that originate from China, ours maintain European quality and standards. We employ fully automatic machinery to make sure that the construction and quality of our 580 grams tanks are beyond doubt.   
GreatWhip culinary-grade nitrous oxide tanks are available in a wide variety of flavors, including strawberry, banana, blueberry, mint, and watermelon.
Why You Should Buy from Us?
Here are the top 6 reasons why our food-grade nitrous oxide tank is the best on the market:
1.   Filled with Pure N2O
Unlike the competition, our tanks contain the purest nitrous oxide that is free of factory residue, metal fragments, and other impurities. It is the same purity as the one manufactured in Europe.
2.   The More Capacity is Cheaper and Convenient
Each tank is individually weighed electronically to provide you with the exact amount of N2O gas.
Rather than buying small whipped cream chargers in large quantities, you can buy something bigger, cheaper, and more convenient like our GreatWhip 580g nitrous oxide tank. The whole process of recharging your cream whipper will get streamlined further.
With our easy-to-use N2O tank, you will not have to worry about running out of cartridges because a single tank has a capacity of whipping up to 42 liters of whipped cream.
The use of a regulator allows you to control the exact amount of nitrous oxide that goes into your whipped cream dispenser, depending on the volume of liquid whipping cream. Not to mention that N2O tanks minimize metal wastage by a larger percentage.
3.   Fully Disposal and 100% Recyclable
Our N2O tanks are fully disposable and 100 percent recyclable. This means they greatly reduce the amount of waste disposed of in landfills. The recyclable tanks support the manufacturing and conservation of valuable resources.
4.   Conforms to All Laws and Regulations
GreatWhip N2O tanks meet all the minimum European regulations, which means you get the purest nitrous oxide and the best tank construction and quality.
Our food-grade N2O tanks are also E942, which means it is safe to use with food because it is colorless, non-flammable, and tasteless. It stops the growth of bacteria, which allows you to store liquid whipping cream that has been charged with the gas for up to two weeks.
5.   Pressure Tested at 165 Bar
The N2O tanks you get from GreatWhip are pressure tested at 165 bar to guarantee you the safest highly pressurized gas.
6.   Works With Most Dispensers
The premium quality tanks of food-grade nitrous oxide from GreatWhip are designed to work with all 30 bar whipped cream dispensers.
You can effectively garnish several types of desserts and drinks with lips-smacking whipped creams of different flavors. You just need a high-quality pressure regulator, filling pipe, and easy-to-connect adaptor.  
How to Use Food Grade Nitrous Oxide Tanks
What You Will Need
Using our nitrous tank cream chargers isn't as difficult as you would have imagined. In addition to the tank, you also need the following: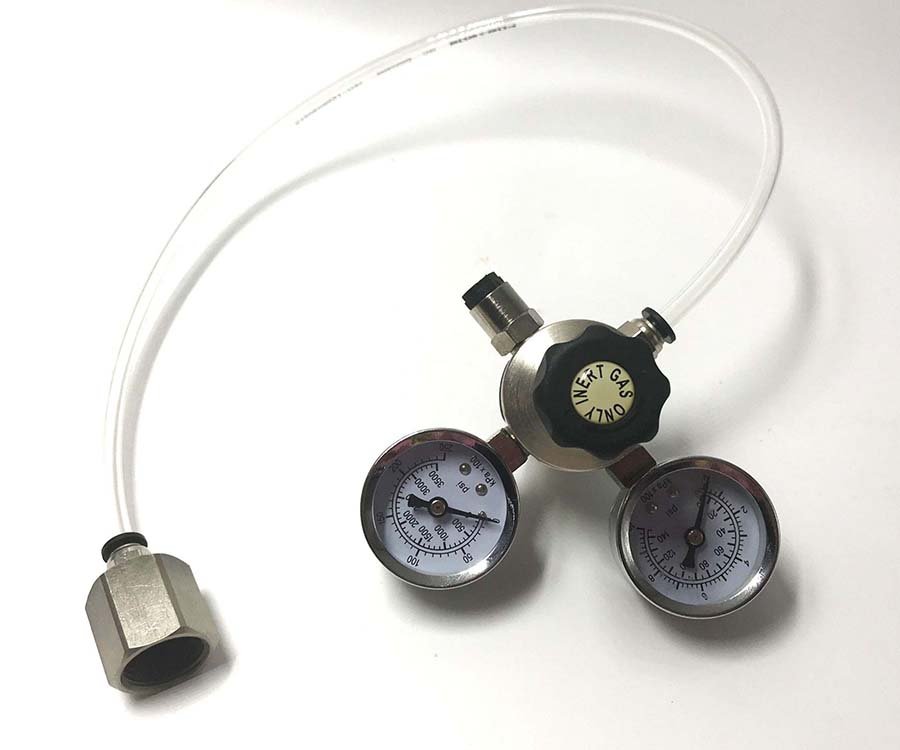 Pressure Regulator
Pressure regulator. Source: alibaba.com
This is the most important part that you must have to effectively use an N2O tank.
A pressure regulator is a uniquely designed accessory that allows you to regulate the working pressure of the tank or the amount of nitrous oxide that goes into your cream whipper. It does a great job of preventing excess nitrous oxide gas waste.
Adaptor
GreatWhip N2O tanks come equipped with a pressure regulator as well as a custom adaptor.
The adaptor is uniquely engineered to convert any 30 bar cream whipper to be compatible with the GreatWhip tank cream charging process. The adaptor has a fixture that matches perfectly with the piercing pin on the whipped cream dispenser head.
Filling Hose
This is an accessory that connects your adaptor to the pressure regulator. GreatWhip custom-made filling hose has an easy-grip ending. It is also long enough to allow for superior maneuverability during installation and the charging process.  
It is highly recommended that you use the GreatWhip N2O tank in the upright position. You need to position it on a flat, non-slippery surface. The stable foot of the tank will keep it stabilized.
Step 2: Install the Pressure Regulator, Filling Hose, and Adaptor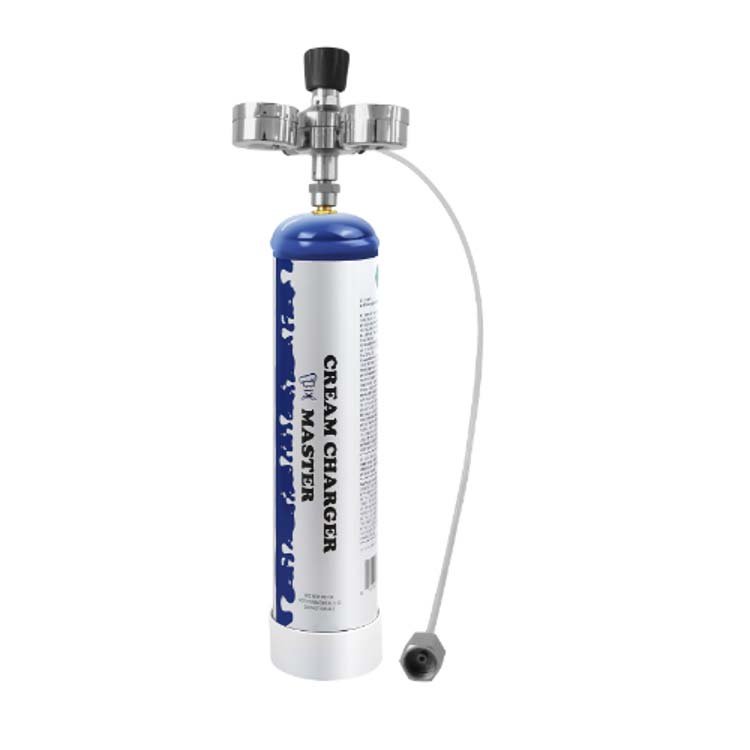 Connect the regulator. Source: greatwhips.com
Then install the pressure regulator with the filling hose and adaptor attached. GreatWhip custom regulator installs easily and quickly.
Step 3: Connect the Adaptor to the Cream Whipper and Start Charging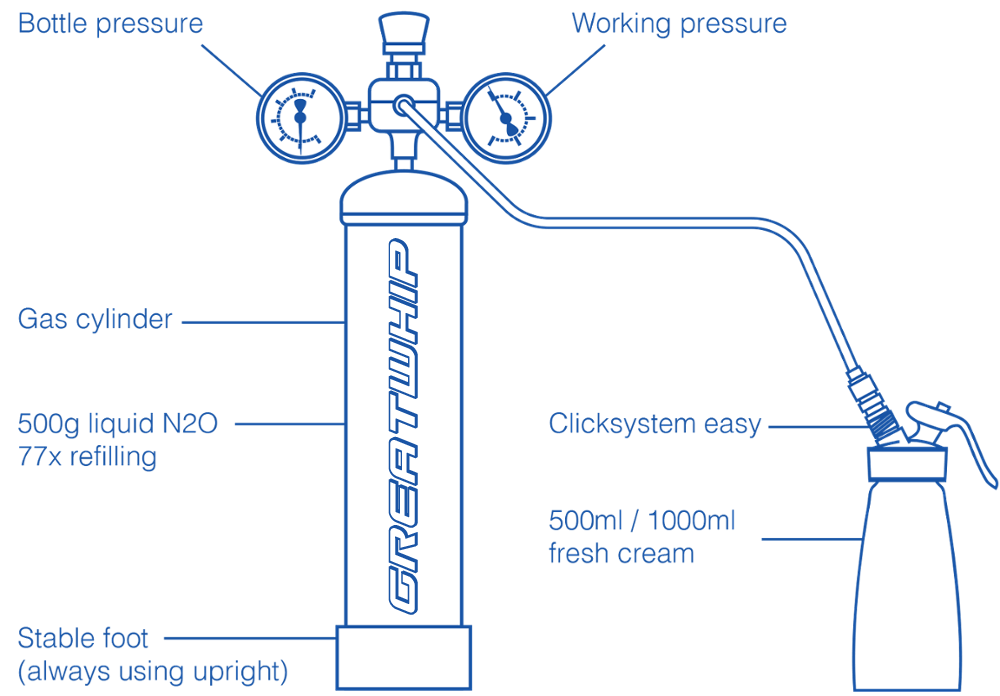 Connect the tank to the cream whipper.  
When you are satisfied that the regulator is properly connected to the tank, you can go ahead and connect the adaptor to the whip cream dispenser. You have to screw the adaptor until the fixture fits with the piercing pin on the cream whipper head.
Now you are ready to charge your whipped cream dispenser. But here is the thing, you need to charge your cream whipper with a specific working pressure, depending on the portion of liquid whipping cream or drink that you are charging.
The following table should give you an idea of what pressure is ideal for what portion for a 500 ml whip cream dispenser.
| | |
| --- | --- |
| Pressure | Portion (s) of Liquid Whipping Cream |
| 5 Bar | 1 Portion (50 ml) |
| 6.5 Bar | 2 portions (100 ml) |
| 8 Bar | 3 Portions (150 ml) |
| 10 Bar | 4 Portions (200 ml) |
| 12 Bar | 5 Portions (250 ml) |
| 13 Bar | 6 Portions (300 ml) |
| 14 Bar | 7 Portions (350 ml) |
| 16 Bar | 8 Portions (400 ml) |
| 17 Bar | 9 Portions (450 ml) |
Conclusion
With so many culinary-grade nitrous oxide tanks produced every month, GreatWhip has been meeting the N2O needs of customers (like professional chefs and home cooks) with quality that meets European standards. As the world's need for food-grade N2O increases, GreatWhip helps streamline the manufacturing and supplying of the gas. Visit our website, greatwhips.com, to check out N2O tanks and more!