Introduction
Whipped cream dispenses help deliver freshly made whip cream for top-class satisfaction. Some domesticated ones can do it manually using a spoon or any other scooper that can work. Others make use of an electronic mixer to make it work. Using your hands to make whipped cream involves a lot of stirring, and it can be tedious when done consistently. Despite so many other methods of whipped cream, the fastest and most efficient way to make whipped cream is through a dispenser.
The mechanism of the whipped cream dispenser is much like the same way that disposable grocery store cans work but very efficient. The dispenser has nitrous oxide canisters that act on the cream under pressure creating the required whipped texture. What makes whipped cream dispensers unique is that, unlike the disposable store cans, you can reload the cream with another cartridge of nitrous oxide, and you're good to go. The reloadable one-time use canisters are pretty affordable and can be replaced for as long as you wish. Each canister can go for as low as 50 cents and is preferable to disposable cans.
Benefits of making Homemade Whipped Cream
Making homemade whipped cream is much better than those you get at the store because you choose your ingredients yourself. It helps you cut down on all those artificial flavors that manufacturers use for their products. These flavors are not harmful but may not be as healthy as when you use natural extracts. With homemade whipped cream, you control all the flavors you can use and ensure they are used appropriately. 
Another advantage is that you cut down on the amount of sugar that is used for the cream. Using naturally occurring sugar rather than manufactured ones can go a long way in slashing your calorie contents. It also allows you to monitor what you eat as opposed to buying from the store.
Making your homemade cream can also aid with customizing the flavor and quantity that will suit your brand. This allows you to be in control of the design that comes with your products. Freedom of expression with edible products can breed creativity and amplify your brand. Another plus is that with your own whipped cream, you can eliminate air contained inside them, unlike it's applicable in those available in the stores. This makes them so stay up fresh when you refrigerate them well.
Different Sizes of Whip Cream Dispenser
Whipped cream dispensers come in different sizes according to the cream products that they dispense. Let us now look at the different sizes of whip cream dispensers and the nature of the charger that it requires. The standard dimensions of whipped cream dispensers include:
Half-Pint: It produces one full cup of whipping cream. This site makes use of one N20 charger.
1 Pint: It produces two full cups of whipping cream. It requires one N20 charger.
1 Quart: This produces four full cups of whipping cream. The charger it needs is two to three N20 chargers.
What to Look Out For In a Whipped Cream Dispenser
There are several things to look out for when purchasing a suitable whipped cream dispenser. This will aid you in getting the best products out there that will suit you favorably. It would help if you looked out for these qualities once you're in the market for a suitable dispenser.
Materials
Materials are one of the essential qualities you need to check before getting that whip cream dispenser. Aluminum or stainless steel are the best materials you should look out for. They're light materials that you can carry around with you even if you need a portable one that suits you. You also have to consider that suitable materials mean that the whip cream dispenser cannot rust and will last for a long time, offering you good value for your money.
Sizes
Whipped cream dispensers do not have a custom size. Sizes are primarily about the amount of cream that you prefer to dispense at a go. Therefore, you can say that size is relative as far it's concerned. The 1-pint size is the most common size of the whip cream dispenser out. This is the perfect size for beginners in the whipped cream business. This is much better because it can turn out more quantities of whipped cream even with a lesser amount of cream. You can decide to go for bigger ones if you have commercial use or bake for a more significant number of people.
N20 Cartridge
You can also choose dispensers according to the size of the N20 cartridge available to you. This ensures that even if the brand you're using has been extinguished, any new one you buy can be compatible with the N20 charger. It also has to work with the cheapest ones in the market.
Nozzle or Tip
Getting a dispenser with multiple nozzles or tips is preferable because it helps you improvise greatly with the whipped cream dispersal quantity. The standard number of suggestions for a whipped cream dispenser is usually 2, but it's not a bad idea if you have more options.
Prize
The price of the dispenser should also be necessary when you're considering the perfect cream dispenser. This is because getting cheaper options will ensure that you won't have to break the bank to make it happen when you need to purchase any of the parts. Canister/cartridges should also be considered heavily in this option.
Warranty
Products should always come with one year-warranty option that comes with buying them. This provides their users with enough security in case the product experiences a defect due to technicalities. Lifetime warranties are much better options as long as they're free.
The Best Whipped-Cream Dispensers Available Today
We will select some very effective products from the options we have in the market so that you can get the best-whipped cream dispensers available.
Whipped Cream Capacity Canister
This is a standard whip cream dispenser designed to secure the whipped cream canister. This is one of the best products from Great Whip that has been maximized for more extended usage. The stainless-steel make ensures that the canister will not suffer any corrosion. You can as well be able to keep the dispenser clean easily.
This dispenser also uses the 8-grams N20 cream chargers, although you may have to purchase them separately. The price is also affordable and can be used easily. I recommend this dispenser for beginners who are not used to whipped cream dispensers.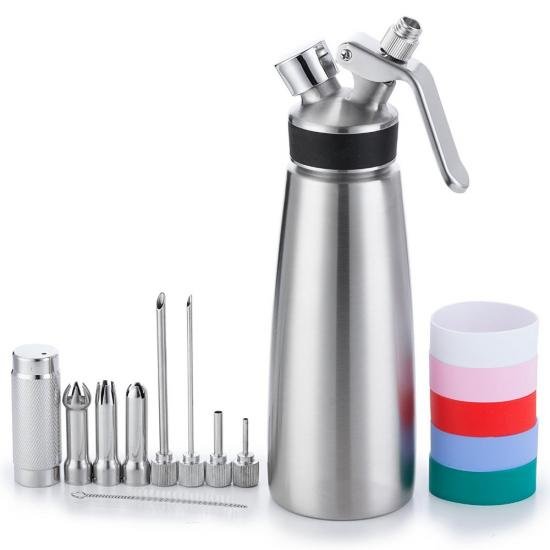 Product Link: http://greatwhips.com/product/great-whip-whipped-cream-capacity-canister/
24-Pack Mint-Flavored N20 Nitrous Oxide Cream Charger Cartridge for Whipped Cream Dispenser
This is a whip cream dispenser charger that has been designed for better output when used. This cartridge has been highly recommended by experts who have been using dispensers for both commercial and private use. The unique feature about it is that it discharges about two times more gas than other cartridges, and this means that the whipped cream is free from air, allowing you the opportunity to dispense more cream at a time.
It also has a characteristic mint flavor that comes with it giving your cream a refreshing taste. The cartridges are made of stainless steel and are easily disposable and recyclable.
Product Link: http://greatwhips.com/product/great-whip-24-pack-mint-flavored-n20-nitrous-oxide-cream-charger-cartridge-for-whipped-cream-dispenser/
50 Packs Strawberry Nitrous Oxide Chargers for Whipped Cream Dispenser and Whipper
These are special chargers filled with Nitrous oxide that helps your dispenser deliver better frosty creams. Great Whip manufactured this type of charger with food-grade nitrous oxide. The implication is that there is an improved quantity of gas in the chargers and will deliver better-whipped cream with interesting tastes that will thrill you when you taste them.
The product also has its characteristic taste that will thrill the tastebud of any user. The charger also dispenses more cream than other brands in the market.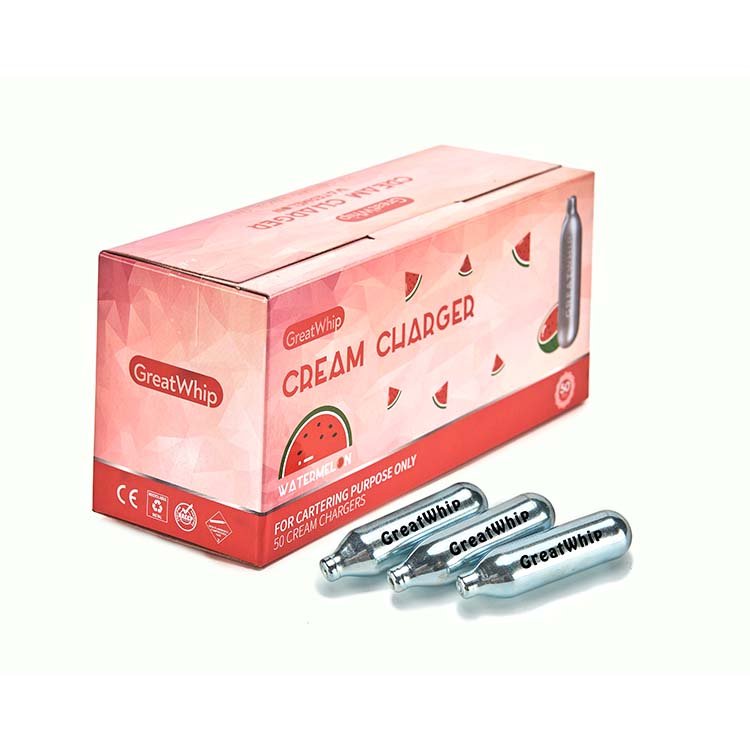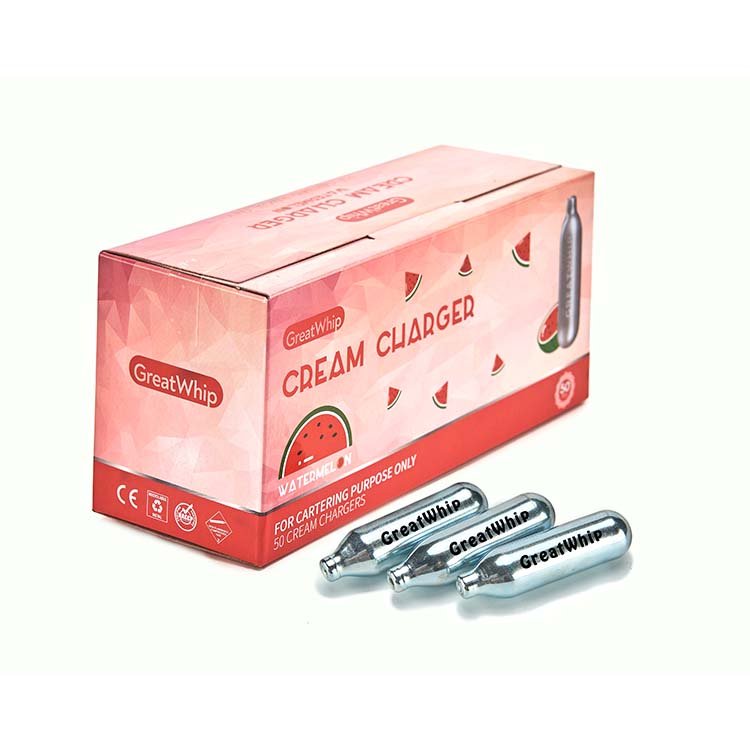 Product Link: http://greatwhips.com/product/50-pack-strawberry-nitrous-oxide-chargers/
GreatWhip 100 Packs Original Flavored N2O Nitrous Oxide Chargers
These are fantastic N20 chargers that are mint-flavored and compatible with any whip cream dispenser in the market. The cartridges are manufactured with 8.4 grams of laughing gas in them with a flavored taste that will make anyone hooked on them. The product material is recyclable and can be disposed of efficiently as well as used with ease.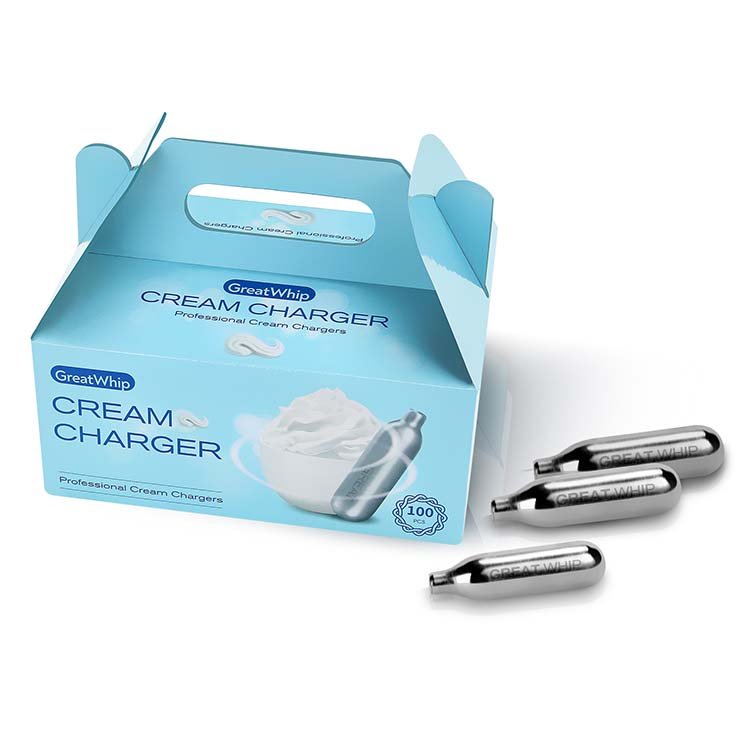 Product Link: http://greatwhips.com/product/greatwhip-100-packs-orignal-flavored-n2o-nitrous-oxide-chargers/
GreatWhip N20 Cream Chargers 580G 1Pack For Whipped Cream Dispenser
This is another excellent product from Great Whip, delivering food-grade nitrous oxide cream chargers. The design was fashioned to provide fresh, long-lasting whip cream. The cream charger also has more chargers than your average charger in the market.
The material of the Cream charger is recyclable steel of the highest grade. You can use it in whip cream dispensers for both commercial and domestic use.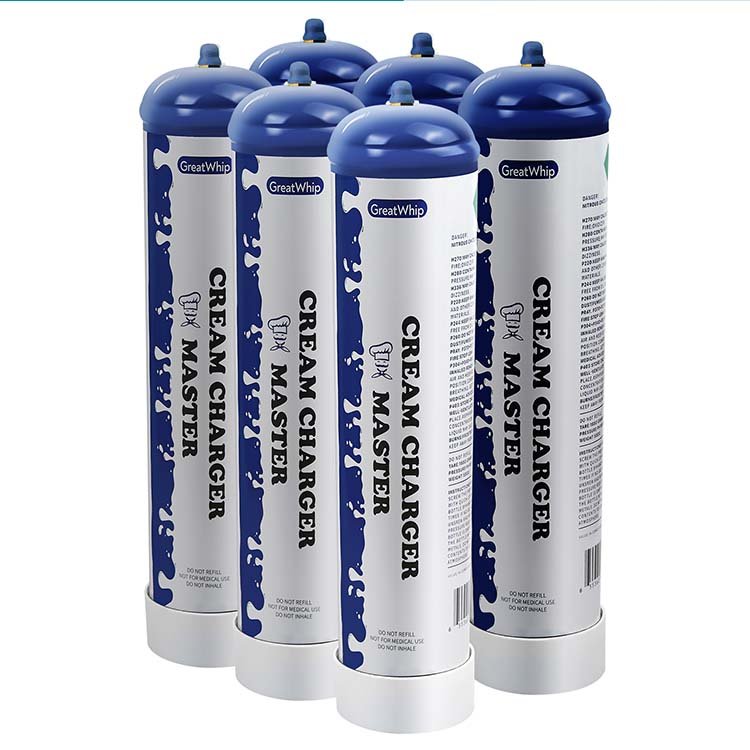 Product Link: http://greatwhips.com/product/greatwhip-n20-cream-chargers-580g-1pack-for-whipped-cream-dispenser/
Conclusion
Whipped cream dispensers can be perfect products to have in the home for our homemade whipped creams. This is why you must get the very best products in the market and know the various occasions that you can use them for a better cream output with a refreshing taste. Great Whip seems to have some of the best products for whip cream dispensers in the market. You can visit our online store today to discover more about our products.