Our one-of-a-kind whipped cream dispensers will bring the next level of sophistication to all of your cooking masterpieces. These cream dispensers have an extra benefit that will last for many years due to the high-grade materials from which they are constructed.
When something comes to frothing cream, you can count on Great Whip to deliver your desired strength. Our chargers are manufactured in China, provide quality that cannot be beaten and contain more than twice the amount of similar products sold by competing manufacturers; therefore, you should pick up one of the whip cream chargers near me to serve both refined refreshments and delicious sweets.
Types of Whip Cream Chargers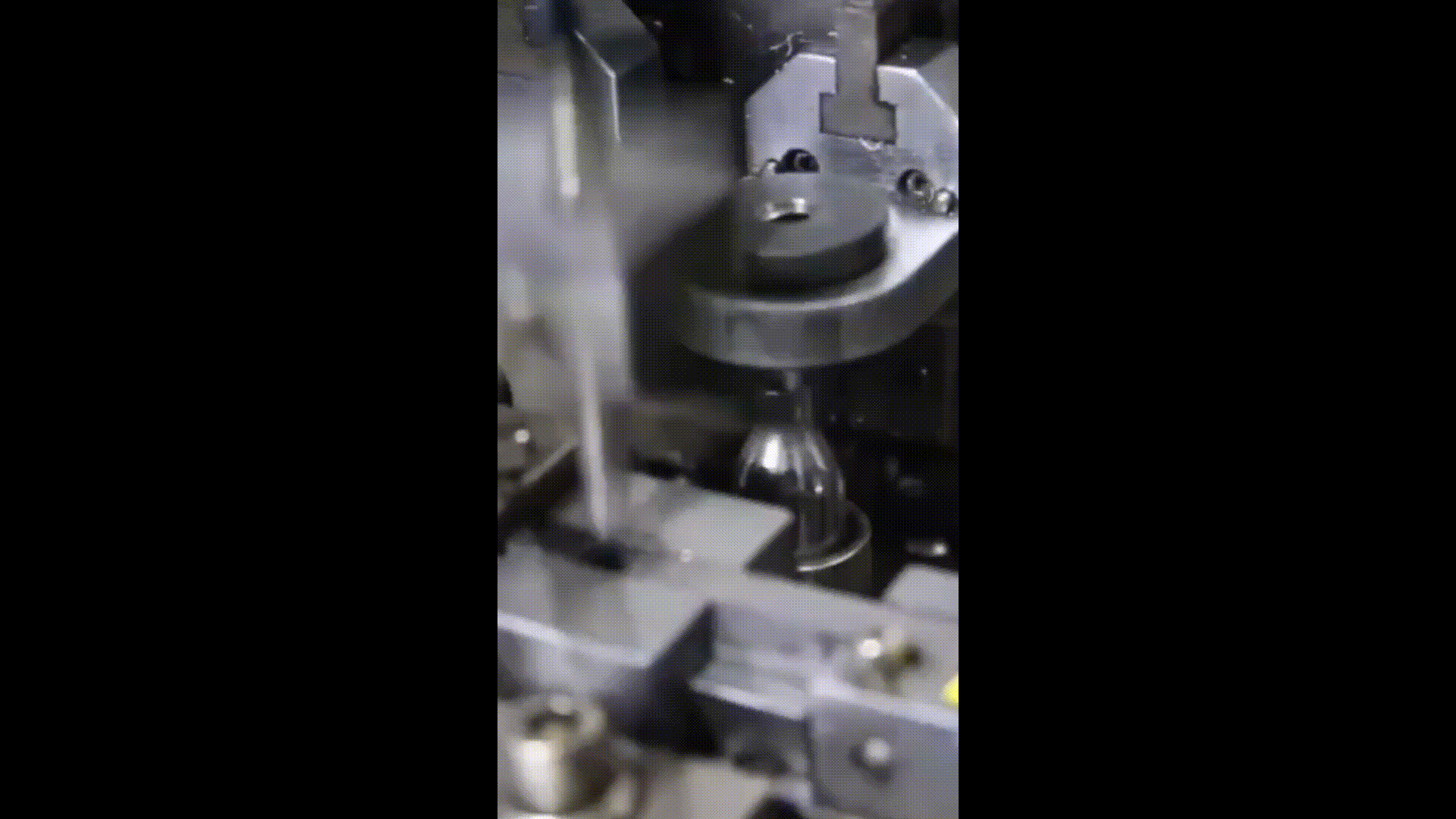 From the standpoint of 8G production, the 8G cream chargers are fully developed and mature in machinery. The innovation of the product continues to grow wildly, succeeding the equipment's customization. The Capacity of 8G Cream chargers with a 0.5L Container or dispenser needs two 8G cream chargers, and a 1L container or dispenser needs only one cream charger. There is excellent production every day, and it can be affordable to the world market. Here are some 8G Cream Chargers available with different flavors of whip cream:
8G N2O GreatWhip Chargers Strawberry Flavour Whip Cream
Nitrous oxide that is one hundred percent pure is included in this box. Although they are created in China, these refills are of European quality and have European certification.
8.2 Grams Greatwhip Orginal Flavour Whip Cream Chargers
These cartridges are excellent since they can be purchased anywhere in the world thanks to the CE certification they received in China, where they were produced. Cream chargers manufactured by GreatWhip are compatible with cream whippers manufactured by various other brands now available on the market. While using cream charges, you must ensure that you follow the instructions with the cream whipper.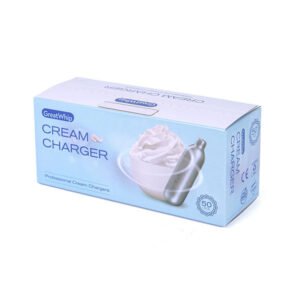 Whipped Cream Chargers GreatWhip N2O Pro Series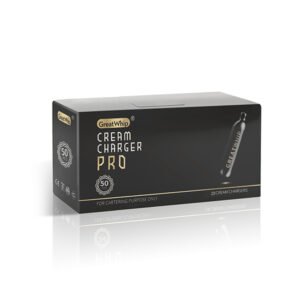 Investing in some whip cream cartridges and N2O cream chargers to add excitement to your meals and drinks is wise.
Whipped Cream Dispenser with Nitrous Oxide Chargers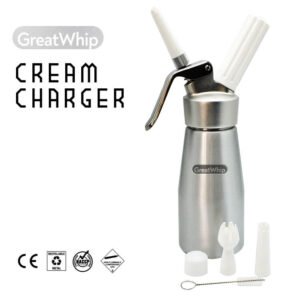 It makes no difference if you appreciate a good pint or are interested in manufacturing your good beer. The reason for this is that the nitrogen dioxide that Great Whip provides is extremely pure N2O gas, which allows you to create the ideal whipped cream dispenser. This item is, in every sense, an amalgamation of genius and a great cream chargers wholesale accomplishment.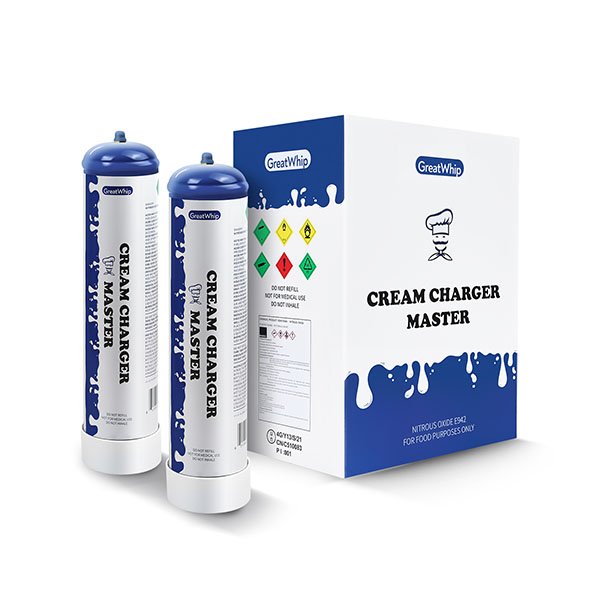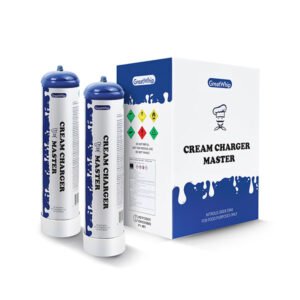 Among the different cream chargers, 580G is one of the bigger canister sizes available in the cuisine industry. Typically, it is broader and longer than 8G Cream chargers N2O. Every small tank can charge 0.95L of N2O gas or 580 grams. Only a few producers have advanced machinery. The well-known ones are Fast-gas, SmartWhip, and GreatWhip. Their features and characteristics are pretty similar. The only difference is the price of GreatWhip, which is much cheaper but high quality. GreatWhip offers protection against the possibility of the container exploding with this design. Here are some of the available 580G Cream chargers:
The canister that weighs 580 grams contains 70x more gas-because of this, selecting the Greatwhip 580g cream chargers wholesale is the preferable choice.
In addition, you can add quality by regulating the pressure of the gas introduced into the whipped cream dispenser. Because of the excessive pressure, you won't have to worry about the whipped cream dispenser being damaged.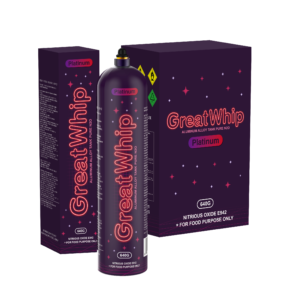 These 640 cream chargers can hold 1.4 lbs, 0.64L, or 640G of premium quality N2O from Europe and are convenient to use. The substantial Capacity of this cream charger tank is perfect for making your specialty drink or your favorite dessert.
The 3.3L product is an entirely new idea. The tank can hold 2000 grams of N2O. The 3.3L Cream Chargers are ideal for significant events or preparation of specialty to special occasions. The innovation of the cream chargers product continues to grow wildly, succeeding the customization of the equipment, but only a few are available in the market. It is a unique product that reaches the market. In the future, the manufacturers will continue to develop to a bigger capacity.
Why Should You Go with GreatWhip Cream Chargers?
GreatWhip is the cream charger product that is most popular because of its superior quality. If you are seeking whip cream chargers near me that you can rely on and trust, GreatWhip cream chargers are your best option. GreatWhip cream chargers have received EU certification and are made using nitrous oxide that is pure and of the highest quality. You can rely on these high soc charger providers from China to deliver the most refined nitrous oxide (N2O) currently on the market.
Nitrous oxide from the GreatWhip brand is not only appealing but also significantly more affordable than any competing brands. Customers interested in purchasing whipped cream chargers and want the China-made attractiveness that comes with them but do not necessarily want to pay the high price tag typically associated with these products may find this to be an intriguing alternative because of its fantastic value. In addition, we also sell our CO2 carbonators and whipped cream mixers at a cost price.  The GreatWhip is the place to purchase whip cream chargers of the highest possible quality. Our fresh produce nitrogen dioxide (N2O) will last longer than other brands available and generate more than competitors' products.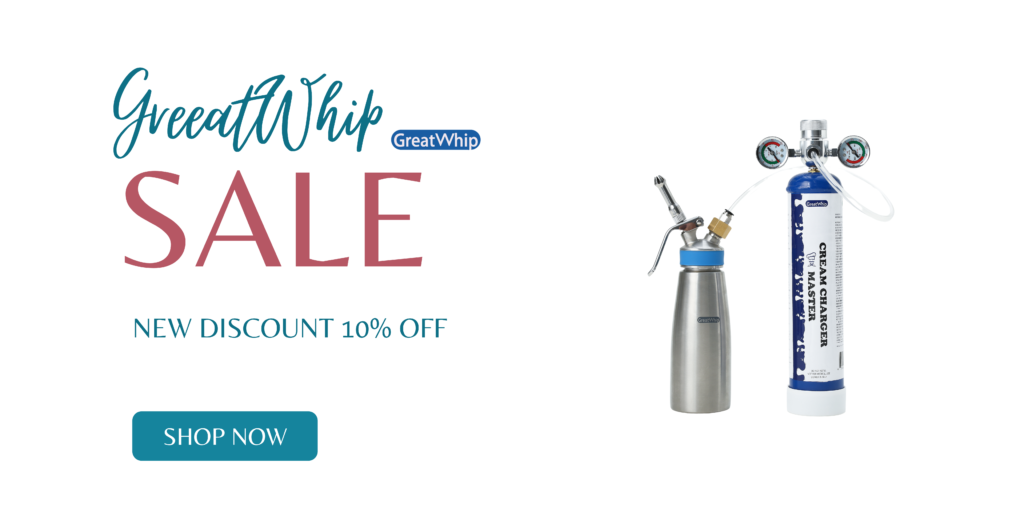 If you are someone who enjoys topping yourself with whipped cream, you really ought to consider purchasing a cream charger to make your life simpler while helping you to have enjoyment in preparing snacks and drinks. Whether it's an 8G CERAM CHARGERS, 580G CERAM CHARGERS, 640G CERAM CHARGERS, and/or 3.3L CERAM CHARGERS, the decision is yours to make. A cream charger from Greatwhip that can work with all standard nitrous oxide cream producers is the characteristic that is considered the most vital. The best cream chargers of Greatwhip will meet your expectations.