Cream Charger Overview
A cream charger or cartridge is a portable cylinder that is filled with food-grade nitrous oxide (N2O) that is used to create delicious whipped cream.
The cylinder has a narrow end with a foil covering. This is the end that is usually pierced to release the N2O gas into the dispenser. Cream chargers help home cooks and chefs effortlessly top off beverages, desserts, and cocktails. Each nitrous oxide canister provides enough charge to create up to 0.5 liters of your delicious whipped cream, sauces, or foams.
Nitrous oxide chargers are intended for occasional and low-volume use in coffee shops, restaurants, and home kitchens.   
Type of Cream Chargers
There are two main types of cream chargers on the market, 8g cream chargers, and 580g cream chargers. The most popular choice for low-volume use is usually 8-gram nitrous oxide cartridges. 
8G Cream Charger
8G Cream Chargers. Source: aywhip.com
Overview
8-gram cream chargers are the smallest N2O cartridges in the industry. They usually measure 2.6 inches long and 0.5 inches wide at the bottom. Each cartridge is individually weighed to ensure that it contains the exact amount of nitrous oxide.
Most eight-gram canisters are non-refillable and have a silver finish. The cartridges are 100 percent recyclable as long as you've got a recycling program near you. They are available in small packages and cream charger bulk packages.
For low-volume use at home, you can get a retailer pack of 24 or 50 8-gram N2O chargers. For a large occasion or business, you can get a wholesale whip cream chargers pack of 600 eight-gram canisters.
How to Use 8G Cartridges
How to Use Cream Chargers. Source: YouTuber: Kitchen Conservatory
Using 8g cream chargers is easy because they are widely compatible with whipped cream dispensers from different brands on the market. These include GreatWhip, ISI, Mosa, Whipit, and Smart Whip among others.
All you've got to do is fill your cream whipper with the right ingredients (such as liquid whipping cream), unscrew the charger holder, slide in the cartridge, screw back the holder containing the cream charger until you hear a sound that indicates the gas has been injected into the dispenser.  
580G Cream Charger
580g Cream Charger. Source: greatwhips.com
Overview
580-gram cream chargers are the largest N2O cartridges in the food industry. A single tank is approximately 12 inches long and 3 inches wide.  
Each 580-gram nitrous oxide canister has a capacity of 0.95 liters with a testing pressure of 180 bar and a working pressure of 110 bar. They usually weigh about 4 pounds. One 580-gram nitrous oxide charger is equivalent to around 80 8-gram cream chargers.
Unlike the small 8g canisters, the 580g cartridges are incredibly time-saving when creating whipped creams, soups, and cocktails on a large scale. Just like the small ones, the big cartridges are also fully disposable as well as recyclable.
You can buy one 580-gram N2O cartridge or a 580-gram whip cream chargers bulk package, depending on your budget.
How to Use 580G Cartridges
To use a 580g canister, you will need a pressure regulator, an adaptor, and a filling hose.
An adaptor enables you to connect the filling hose and pressure regulator to your whip cream dispenser. A regulator, on the other hand, allows for easy working pressure adjustment. All you've got to do is inject just the right amount of nitrous oxide gas you need into your cream whipper.  
8G Cream Charger Vs 580G Cream Charger
Some Similarities
Both 8g and 580g cream chargers are 100 percent disposable as well as recyclable. They are both filled with food-grade nitrous oxide gas and used with cream whippers. But there are some major differences between the two types of cream chargers.
Main Differences
8-gram cartridges measure roughly 2.6 inches long and 0.5 inches wide, whereas 580-gram canisters measure around 12 inches long and 3 inches wide.
8g cream chargers are filled with 8 grams of nitrous oxide, whereas 580-g chargers are filled with 580 grams of nitrous oxide.
8-gram N2O canisters are directly compatible with standard 8g whip cream dispensers from different brands, whereas 580-gram N2O chargers require a regulator, a filling hose, and an adaptor to be used with a cream whipper.
One 8g cream charger can only charge a cream whipper once, whereas one 580g cream charger can be used to charge a cream whipper more than once.
Cream Whipper Chargers for Sale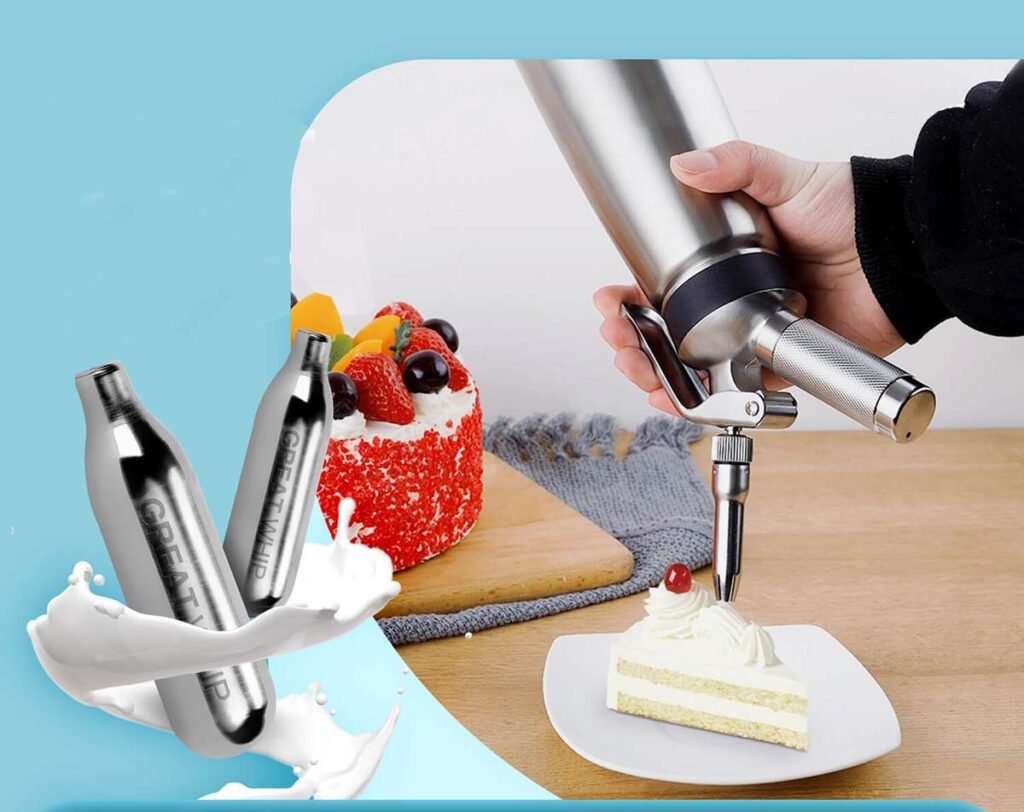 Cream Chargers for Sell. Source: greatwhips.com
When looking for cream whipper chargers for sale, always look for a leading distributor with a steadfast reputation for supplying the purest culinary-grade nitrous oxide.
The best brand to buy from is one that supplies to a wide range of customers, including commercial kitchens, restaurants, caterers, hotels, pubs, and cafes. The brand should also provide everything you need to start using cream chargers like a cream whipper or a pressure regulator.
When ordering cream whipper chargers, make sure you select the correct size. The size you choose should also be compatible with your whip cream charger. Most 8g N2O cartridges are usually compatible with push-fit styles of whip cream dispensers.
You can consider small packs of 24 or 50 cream chargers for low-volume use at home for creating cocktails and desserts. But for large-volume use like in a coffee shop or a gathering, you should consider a brand that provides bulk whipped cream chargers.
Also, choose a brand that offers free next-day shipping and only ships with the best courier services to ensure that you receive the items faster and damage-free.   
What Are Cream Chargers Used For?
Here are the most popular uses of nitrous oxide cream chargers:
Whipped Cream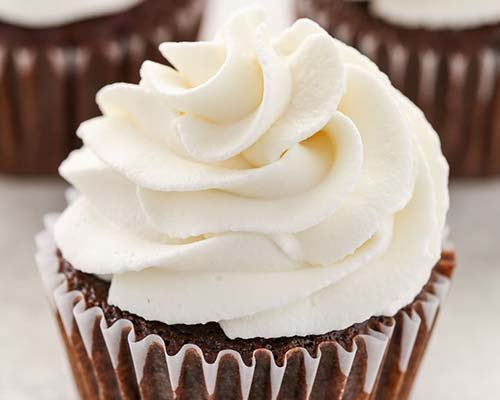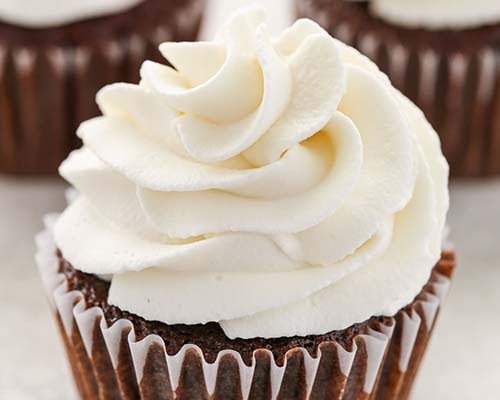 Whipped Cream. Source: istockphoto.com
They are called cream chargers because they're purposefully made for creating whipped cream.
 Once the gas has been injected into the cream whipper, it reacts with stabilizing agents in the liquid whipping cream (fats and gelatines) to create a foamy mixture. The created mixture has a voluminous aesthetic and a fluffier texture.
When dispensing the cream, the mixture forms bubbles, increasing in size. Culinary-grade nitrous oxide gas makes the cream very stable, which allows for consistency when topping desserts, coffee, and cocktails.  
But here is the thing, never dispense the cream with the dispenser head facing up, all the gas will escape and you will not get the best-whipped cream results.   
Preservative in Foods
Nitrous oxide is bacteriostatic, which is great because it prevents the development of bacteria.
That's why it is used to fill the additional space in chips and snacks bags. When used to create whipped cream, it can keep the cream fresh in the fridge for at least two weeks as long as it remains airtight in the cream whipper.   
Mousses and Desserts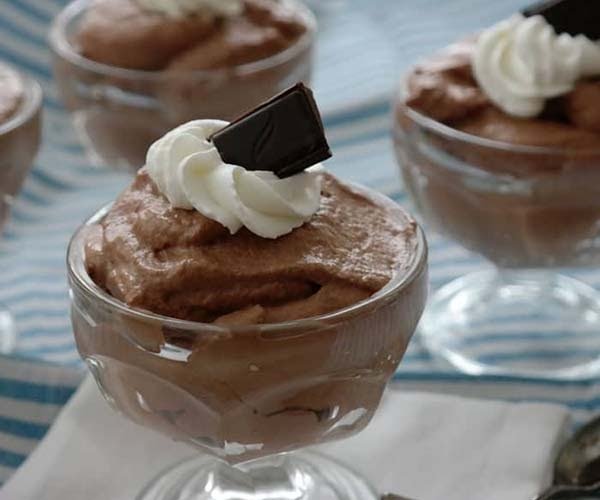 Whipped Chocolate Mousse. Source: chocolatechocolateandmore.com
When you order your favorite mousse cake in an eatery, you are going to get a sweet course that is as creamy and rich as pudding but light as air.
But you do not have to go to your usual spot to eat a mousse dessert because you can prepare it from the comfort of your kitchen. You just need to get the food ingredients and cream chargers from a well-known brand like GreatWhip.
The process is super easy and quick when using N2O cartridges. 
Alcoholic Cocktails
What's more aesthetically appealing than espumas and foams. But how they are made traditionally takes a great deal of time as well as effort.
Not to mention that the egg white foam is usually flavorless and can be quite unpleasant for some people. Cream chargers are a game-changer because they add panache, aroma, and zing to your alcoholic drinks easily and quickly.
In rapid infusions, the N2O gas dissolves into an alcoholic drink, forcing it into a solid under pressure. Then you can release the pressure to create bubbles and beautiful crema. This unique technique is very effective at improving flavor and consistency. 
Recreational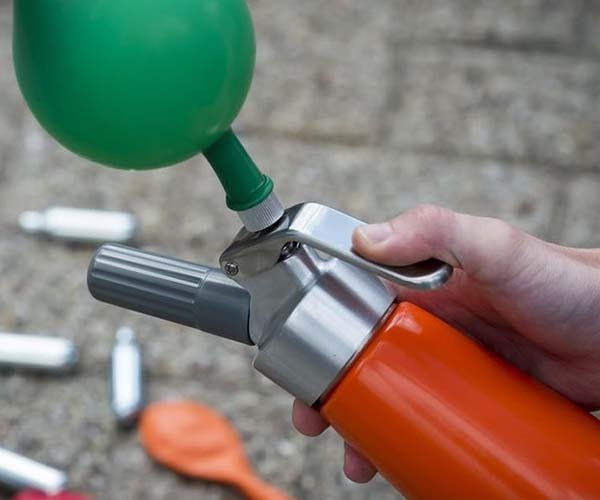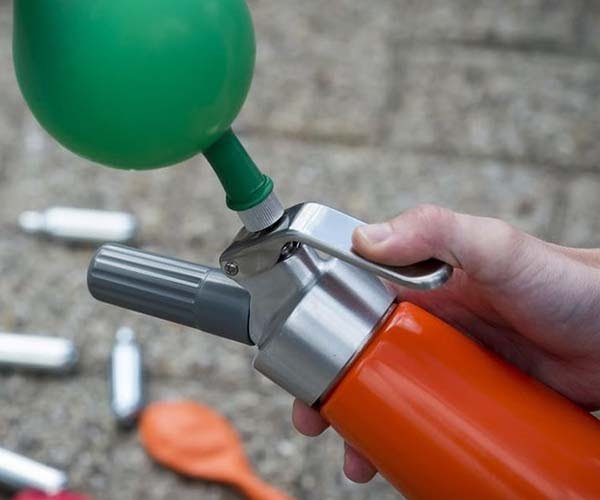 Using Nangs with Balloons. Source. manofmany.com
Cream chargers are also used recreationally through inhalation to make a person feel relaxed. You simply become lightheaded and then feel like you are in a different world.
Everything around you appears unreal. The high feeling, however, is short-lived and normally fades off after a few minutes. So, you will have to inhale from a balloon repeatedly to maintain the high feeling.
You are supposed to be in a seated position when inhaling the gas to avoid hurting yourself when you get dizzy. It's recommended to inhale through a balloon and not directly from a cream charger canister to avoid freeze burns. You should also know that it isn't a good idea to mix nangs with alcohol.
Recreational use of cream chargers can be dangerous, especially when used too often. You may get dizzy, have shallow breathing, and even lose consciousness if you are overexposed to the gas. Some people have been known to experience hallucinations, which can be quite an ordeal, considering that you will be seeing weirdos.    
There are a few ways people use cream chargers to fill balloons. First, you can use a NOS cracker to fill a balloon, which is the easiest method. Second, you can use a whipped cream dispenser to fill a ballon. It is also always advisable to use gloves to avoid freeze burns.   
Top 5 Wholesale Cream Chargers Suppliers in the World
Here are the top 5 wholesale cream chargers brands to look for on the market:
Mosa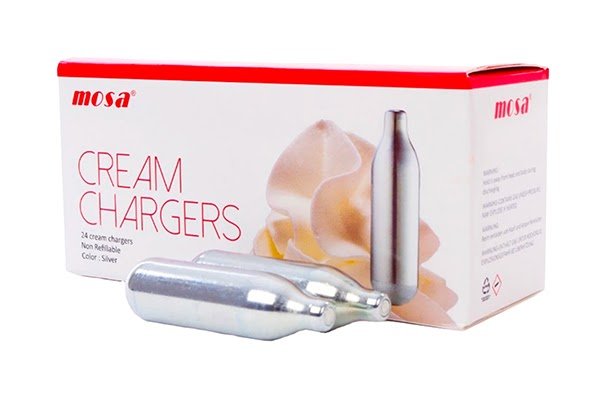 Mosa Cream Chargers. Source: creamfast.co.uk
Company Background
Mosa is a specialized cream whipper charger producer, serving thousands of consumers around the globe daily. Founded in 1988, Mosa is one of the leading international food-grade nitrous oxide product brands that enjoy high popularity among consumers.
Product Range
The brand has a large production of cream chargers, whip cream dispensers, and soda siphons to meet the needs of every consumer. 
Recommended Reason
To guarantee the safety and the quality of the whipped cream, all Mosa N2O cartridges are produced without any oil traces.
Then Mosa boasts TFDA and ISO certifications. The brand works round the clock to offer much lower prices for Mosa cream chargers bulk orders. A move to ease consumers' economic burden.
Choosing Mosa means selecting assurance. By buying a Mosa cream chargers wholesale package, you get one of the best deals there is on the market. With Mosa high-quality cream chargers, you can create yummy desserts as well as amazing cocktails like professionals do.
It's estimated that Mosa whipped cream chargers can turn 0.5 liters of liquid whipping cream into up to 1.5 liters of lip-smacking whipped cream.  
ISI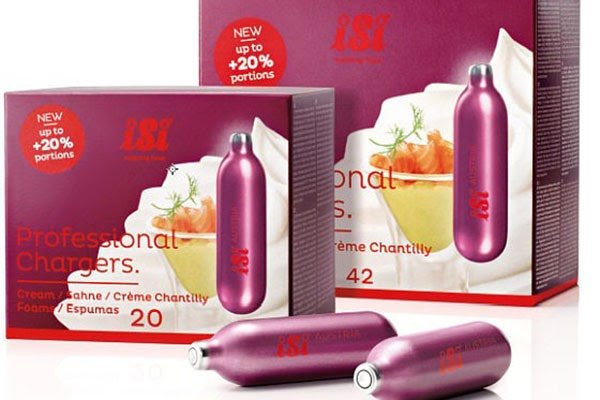 ISI Cream Chargers. Source: betterkitchen.eu
Company Background
ISI is one of the oldest cream charger companies situated in Austria. The brand was originally called Karl Fischer-Pochtler GmbH. Its products started hitting the market in 1966. The company only recently started exporting cream chargers worldwide in 2018.
The brand combines both innovation and tradition to provide the purest grade N2O cartridges to its consumers. The brand is relentless in its quest of setting new standards for consistency and safety in delivering the best results for food enthusiasts, bartenders, baristas, and chefs across the globe.   
Product Range
The company specializes in the manufacturing of cream chargers and whippers (cream whipper, gourmet whip, easy whip, thermo whip, and thermo Xpress whip plus).
Recommend Reason
The prowess has just got better with its global introduction of the new ISI professional cream chargers that deliver up to 20 percent more whipped cream. The company ensures that you achieve your culinary innovativeness without sacrificing taste or quality.
With their new N2O capsules, you can whip a variety of products for both normal and vegan individuals, including non-dairy coconut creams and low-fat creams. The new cartridges from ISI are suitable for whipped cream, sauces, coffee toppings, soups, desserts, and drinks.
The company stocks from 40 pieces up to 600 pieces, ensuring both retail and wholesale consumers get their orders. 
GreatWhip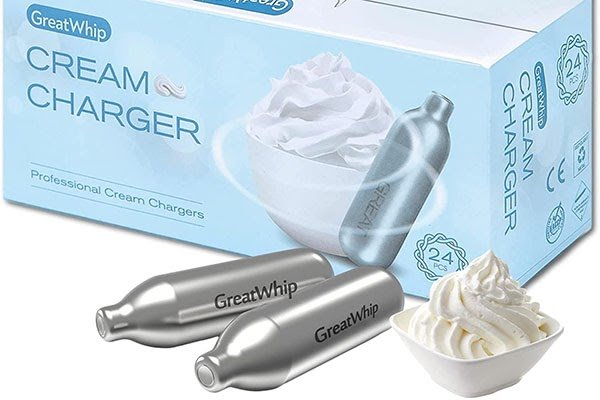 GreatWhip Cream Chargers. Source: ubuy.com
Company Background 
This is China's largest supplier of cream whipper N2O chargers. GreatWhip has over a decade of experience in the nitrous oxide chargers industry. As a brand with amazing historical deposits and exceptional strength. GreatWhip innovativeness is widely seen in its pure food-grade nitrous oxide chargers and the high-performing cream whippers.
Product Range
This outstanding brand has a wide production of 8g and 580g cream chargers, a whipped cream dispenser, and a sparkling water maker.    
Recommended Reason
Unlike the competition, GreatWhip N2O cartridges are well-known for their impeccable quality and pure culinary-grade nitrous oxide.
All of the brand's N2O chargers are made from the finest materials on the market that meet all the minimum international standards. We really like the fact that GreatWhip cream chargers are residue-free, oil-free, ultra-clean, and smell great.
This amazing brand offers cream charger bulk packages in 24, 50, and 600 packs, making these cartridges suitable for commercial as well as home use. Not to mention that you have more than one unflavored option and two flavored options (strawberry and mint). Each cream charger is individually weighed before packaging to ensure that you get a consistent and precise quantity.  
Whipit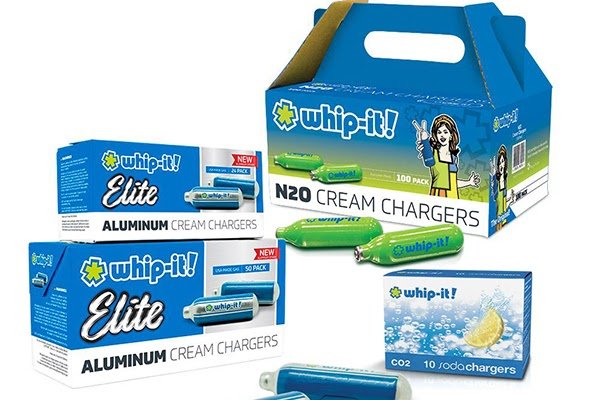 Whipit Cream Chargers. Source: whipit.com 
Company Background 
This is a good whip cream charger brand to consider. Whipit nitrous oxide cream chargers and cream whippers were invented by the brand's original partner in manufacturing in the 1950's. This company aims at providing hard-to-find food items to their customers, family, and friends. They work very hard to provide superior quality products to all consumers at the lowest cost possible.   
Product Range
The Whipit brand produces a wide range of products, including N2O cream chargers, CO2 soda siphons, stainless steel dispensers, and aluminum dispensers.
Recommended Reason
Cream chargers and cream dispensers manufactured by this company are made to great quality standards and are ISO and TUV certified. The N2O cartridges are designed to be used in any brand or type of cream whipper on the market.
All Whipit cream whipper chargers are extremely easy to use with a whipped cream dispenser. This ensures you've more time for creating delicious whipped cream for topping desserts and coffee. 
Smartwhip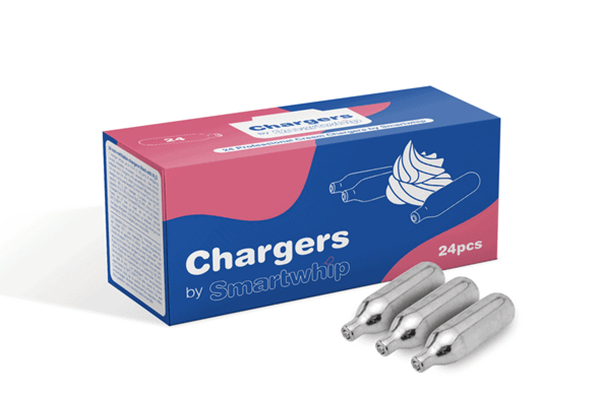 Smartwhip Cream Chargers. Source: onlinechefstore.com
Company Background 
Here is another great Amsterdam-based cream charger brand you can consider.
Smartwhip entered the market in 2019 to revolutionize the cream charger industry. As a young, growing brand, the company's main objective has been to provide its consumers with premium quality nitrous oxide chargers at the most reasonable price point.
Product Range
The brand mainly specializes in the production of 8-gram and 580-gram whipped cream chargers.
Recommended Reason
The brand provides exceptional customer service, providing you with a seamless shopping experience from order to delivery. All you've got to do is choose from the brand's wide range of high-quality cream chargers. You can also get good Smartwhip wholesale deals all at competitive prices.
Smartwhip N2O chargers are completely filled with food-grade, pure nitrous oxide gas, and they are individually weighed for consistent quantity. We really like the specially made leakproof construction that ensures you don't get any duds.
Smartwhip 8-gram nitrous oxide chargers fit most cream whippers from other brands on the market. Whether you are a home cook enthusiast or a professional chef, whipped cream chargers from Smartwhip are easy and safe to use.  
6 Tips & Tricks to Choose the Best Cream Charger
The following tips and tricks will help you choose high-quality cream chargers for your needs.
The Brand
When it comes to cream chargers the brand you choose to buy from matters a lot.
This is so because there are so many out there and not every brand is entirely honest about the purity of its nitrous oxide gas and the quality of its cartridge construction. Some popular brands that have proven to be highly reliable include Mosa, GreatWhip, Whipit, ISI, and Smartwhip.
Compatibility
Then you've got to think about compatibility to avoid investing in the wrong cream whipper chargers.
When buying 8g cream chargers, make sure that they will fit in the charger holder of your cream whipper head. Most 8-gram nitrous oxide cartridges have universal compatibility with standard 8-gram whipped cream dispensers from different brands.
But you will need to buy a few additional accessories when you are planning to use 580g cream chargers with your cream whipper. To make your whipped cream dispenser compatible with the 580-gram cartridges you are planning to buy, you will also need to buy a pressure regulator for controlling the working pressure, a filling hose, and an adaptor.
Purity of the Nitrous Oxide Gas
When looking at different brands, each one will claim that its chargers contain the purest nitrous oxide. You can ensure that you are getting the purest N2O that doesn't contain oil residue or a metallic taste by checking what other users are saying online. Also, make sure that the available flavors are free of any impurities. 
High-Quality Construction
Cream chargers, both 8g, and 580g sizes come in a cylindrically shaped canister. You have to make sure that the construction of the canisters is strong and highly durable. More importantly, it should be leak-proof. You will know that the canisters you have received are poorly designed if you get duds (empty cream chargers) in the package.
Bulk Buy
Home cooks and dessert enthusiasts can settle for small packages of 10, 24, or 50 pieces per package. But if you have a business or a large occasion, then you will have to consider a cream charger bulk buy, such as a 600-pack package. Also, consider buying from brands that offer good deals.
Eco-Friendly Supplies
We all love our environment, right? So, consider buying eco-friendly cream chargers. They should be made from high-quality material that is 100% recyclable. This will allow for easy and quick cleanup after emptying the canisters as long as you have a recycling firm nearby. 
Conclusion
With that said, we believe you are now well-equipped with the right information when looking for the best cream chargers.
The cream chargers you choose, however, should contain pure nitrous oxide that's free of oil residue and are compatible with your whipped cream dispenser. Also, make sure they are consistent and reliable. They must have been individually weighed to guarantee that you are not paying for duds.
We think cream chargers (both 8g and 580g) from GreatWhip contain pure nitrous oxide and they've got very nice flavors.