Are you an advocate of wholesale cream chargers?
You should be one because you get to save money with every purchase. By buying N2O chargers wholesale, the per-unit prices are incredibly lower. You could directly save up to 25 percent by buying whipped cream chargers in bulk as opposed to small packs of 24 or 50 cartridges.
Apart from saving on the money you also get to save on time. Lumping one to three month's worth of cream chargers supply means you will spend less time shopping and comparing the best prices from one brand to another.
In today's post, we're going to explore the different aspects of wholesale cream charger bulk buy.   
Best Whip Cream Chargers Wholesale
Here are the best whip cream chargers wholesale on the market:
GreatWhip Cream Chargers
GreatWhip Cream Charger. Source: greatwhips.com
GreatWhip wholesale cream chargers are of the highest quality, considering that they contain ultra-pure European-grade N2O. The pack of 600 nitrous oxide chargers retails at an affordable price of approximately $300. GreatWhip also supplies 580g N2O charges. 
Create volumes of lip-smacking infusions, foams, and creams with wholesale GreatWhip Cream Chargers. These nitrous oxide cartridges work with standard whip cream dispensers and they deliver fast performance with a simple and quick fit. You're assured that when you place a bulk order for the chargers, you'll receive pure N2O that doesn't produce any aftertaste.
ISI Professional Cream Chargers
ISI Professional cream chargers.
For decades, this great brand has been one of the world's best manufacturers of wholesale cream chargers. 
The brand uses reliable production methods that meet the minimum EU certification requirements. The pure N2O for whip cream is independently weighed electronically to provide a consistent level of gas in each cartridge. The nitrous oxide cartridges are properly cleaned to get rid of carbon traces. The pack of 600 chargers is available at approximately $275.
Whip-It Cream Chargers
Whip-It cream chargers.
Whip-It is a well-known supplier of wholesale cream chargers. The brand's case of 600 is one of the best bulk supplies on the market. 
The Whip-It cartridges are compatible with any brand whipped cream dispenser. Each canister is filled with pure 8 grams of nitrous oxide. Just one charger is enough to create more than double the amount of cream whipped by an electric or hand mixer. A single case of 600 is available at approximately $300.  
Ultra-Purewhip Cream Chargers
Ultra-Purewhip cream chargers.
Ultra-Purewhip is a great brand to consider for wholesale cream charger bulk buy. The Austrian brand uses modern filtration technology to provide the purest N2O. 
Each nitrous oxide cartridge contains 8 grams. The chargers are expertly made to fit all standard cream whippers on the market. The 600-pack is available at a good price of approximately $240. You can call the brand through its direct line to make inquiries and place wholesale orders.
Special Blue Whipped Cream Chargers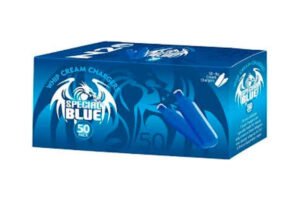 Special Blue cream chargers.
Special Blue is one of the best brands to buy bulk cream chargers from. Every nitrous oxide cartridge is manufactured with the purest N2O available to provide lip-smacking whipped cream for infusions and cocktails among other things. One carton contains 25 packs and each pack contains 24 cartridges. The carton retails at approximately $220, which is highly affordable than buying in small quantities.  
Chef-Master Whipped Cream Chargers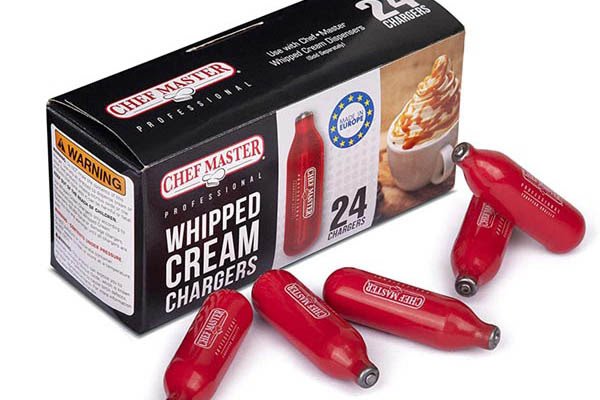 Chef-Master cream chargers.
The Chef-Master brand designs its wholesale cream chargers in the United States and then mass-produced in Europe. They are made to work with all standard cream whippers on the market. With Chef-Master wholesale cream charger bulk buy, homemade whipped cream is an achievable, fun, and easy experience. The wholesale pack of 600 from this great brand sells at approximately $310.  
N2O Chargers Wholesale
There are three popular types of nitrous oxide chargers wholesale on the market, which include the following.
Food-Grade Nitrous Oxide Chargers
Food-grade N2O is the most readily available variety of nitrous oxide that you can buy in bulk. Culinary-grade nitrous oxide is sold in cartridges or chargers. They're available online, in kitchen shops, and in mini-marts.
Automobile Grade Nitrous Oxide
This form of nitrous oxide is usually injected into car engines to boost power output. This kind of nitrous oxide normally contains hydrogen sulfate. The hydrogen sulfate is added to discourage recreational users from buying automobile-grade N2O.
Pharmaceutical Grade Nitrous Oxide
This form of N2O is normally the purest on the market. Dentists are the most common physicians who use laughing gas to calm down their patients before doing a certain procedure. Doctors also use laughing gas along with other applications for people who can't handle stronger anesthesia in a medical procedure like surgery.
Size of Canister
There're three main sizes of N2O chargers that you can buy in bulk and they include the following.
8G Chargers
The 8-gram canister is the most popular size on the market. 8g nitrous oxide chargers are the most readily available and they are the ones that are sold the most. These N2O canisters are widely used in the food industry to create whipped cream and they are normally compatible with all standard whipped cream dispensers.
16G Chargers
These nitrous oxide canisters have double the volume of standard N2O chargers. They hold more gas than their smaller counterparts. These cartridges, however, may not fit all types of cream whippers. They usually need a threaded dispenser.
Tank Chargers
Tank nitrous oxide chargers are typical the largest on the market. The most popular tank sizes you can buy wholesale are 580-gram canisters. They are normally suitable for large-scale use like ice cream vans and medical centers. Large canisters of nitrous oxide should only be bought and used by experienced people to avoid freeze burn accidents.
Additional Factors to Consider 
Also, when searching for N2O chargers wholesale online, you need to look for a brand that offers unmatched customer service, quick deliveries, and flexible pricing like GreatWhip.
Flexible Pricing
This is one of the key reasons why you should consider wholesale cream charger bulk buy. As a business strategy in which N2O chargers wholesale final price is open for negotiation. Flexible pricing ensures you get the best deals from different nitrous oxide manufacturers on the market.
Quick Delivery
The best cream charger brand you buy from should provide fast and free shipping. You get an increased average order value like free shipping for all orders above $200. You could even add some other items to meet the minimum purchase threshold.
Great Customer Service
Another great aspect of wholesale cream charger brands is superior customer service. They have the fastest response time and highly reliable live chat support.
Cream Chargers Near Me
Have you ever searched for "cream chargers near me?" The search results can be quite a few.
With the help of this post, you can find the best dealers near you that sell the purest nitrous oxide chargers. Whether you are looking for 8g whip cream cartridges, 16g nitrous oxide chargers, or 580g N2O tanks. Most buyers may assume that the largest superstores would stock nitrous oxide chargers. But the best place to buy cream chargers is online.   
Buying from Online Suppliers
There are many online suppliers of cream chargers. The most popular and trusted ones are:
GreatWhip
Whip-It
ISI Professional
Ultra-Purewhip
Special Blue
Chef-Master  
SupremeWhip
Always consider quality when buying online because some online suppliers may easily entice you with their cheap wholesale cream charger bulk buy. Buy products that meet all the necessary compliance standards as well as certifications. The online supplier you choose should have a wide range of cream chargers available online. In addition to quality that you can trust, consider suppliers who offer fast and free shipping for big orders. They should also be great suppliers of whip cream dispensers and soda siphons.  
Advantages of Buying Cream Chargers Online
Here are the key benefits of buying cream chargers from online suppliers like GreatWhip:
Several Products at One Place
When shopping for wholesale cream chargers online, you get to view other products from the same supplier on their website.
For example, when shopping for N2O cartridges or tanks from GreatWhip.com, you can also check our other range of products, including cream whippers and soda siphons. It is super easy for nitrous oxide customers to compare products and buy from the comfort of their workplace or homes.
Lower Per Unit Price
You should expect lower per-unit prices when shopping for cream chargers online, especially from our website. Not to mention that we offer the most lucrative personalized discounts for all our customers.  
Not Pressurized in Any Way
You are not pressurized in any way when you buy nitrous oxide cartridges or tanks online. You can take your time and compare prices from one brand to another. You can even read about the product and understand how to use it.
24/7 Availability
You can shop online for cream chargers in bulk at any time of the day, depending on your schedule. The online stores or websites are always open to customers whenever they need to place an order.
Buying Locally
You can also consider buying cream chargers near you locally. Local physical shops are not as many as online stores. The best places to look for are usually kitchen supply shops.
Advantages of Buying from a Kitchen Shop
Here are the top reasons why you should consider buying wholesale cream chargers from a physical store:
No Shipping Costs
When you get your bulk cream chargers from the nearest kitchen shop in town, you don't have to worry about shipping costs if you fail to buy products of a certain amount. The price usually gets even higher if you are buying the cream chargers from an online brand that ships from overseas. In the end, you will end up paying more for the bulk buy.
Reduced Cost of Returns
When you can see the cream chargers you want to buy in person, you are likely not to return them. And even if you return them you will do so at the physical store without incurring any additional costs. Let's say you buy a wholesale pack of 600 cream chargers and you find that the first 50 cartridges are duds, you could return to the store and lodge a complaint without going through a tiring online return policy process.   
Frequently Asked Questions
What are Duds When Using Cream Chargers?
Duds usually refer to cream charger cartridges that fail to release any nitrous oxide gas when used with a whipped cream dispenser. N2O chargers that don't release gas are either leaking or empty.
Can You Use 16G Chargers with a Standard Cream Whipper?
16g cream chargers are filled with twice the volume of 8g cartridges. So, using a 16-gram charger in a standard whipped cream dispenser could lead to increased pressure, which is risky. You will need a 16g converter that will safely regulate the pressure and allow you to use the cartridges with a standard 8g cream whipper.
How Can I Use a 580G N2O Tank with an 8G Whip Cream Charger?
You need a pressure regulator that will effectively allow you to control the release of N2O into the cream whipper. It helps prevent excess nitrous oxide gas waste by regulating the working pressure. You can regulate the pressure with respect to the portion of cream in the dispenser. For example, you can set the working pressure at 5 bars if the volume of the cream is 50 ml. 
Conclusion
GreatWhip specializes in wholesale cream chargers, cream whippers, and vape pens. Our brand aims to provide the most affordable wholesale prices to our esteem clients.
We offer incredibly low per-unit prices and fast and reliable shipping without compromising quality. We have large stocks that meet our ever-increasing number of customers for wholesale cream charger bulk buy, whipped cream dispensers, and vape pens.
Large quantities of whipped cream chargers in 8g and 580g are available from our website. Visit here for more details.