Greatwhip is one of China's largest suppliers of cream chargers. We have over a decade of experience in the cream charger industry. We can produce over 40 million cream chargers per month using the most sophisticated automatic machine. We offer all flavors of cream chargers including strawberry, banana, blueberry, mint, lemon, and watermelon. Our cream charger canisters come in 8g and 580g.

GreatWhipCharger offers OEM services as well. We can change the color and logo on the aluminum cream charger bottle body to match your brand's specifications. Also, we can personalize the cream charger's packaging box to include your company logo. We accept your packaging and design scheme for cream charger bottles. After proofing, we will send you the final product to confirm your bottle design and the paper packaging before finalizing your order.

Greatwhip cream chargers are known for their pure and impeccable quality of nitrous oxide gas (N2O). All of our products are manufactured from the finest materials and conform to international standards. They are ultra-clean, have no oil, great smell, and leave no residue.

We have warehouses in Los Angeles, New Jersey, Miami, USA, London and Europe, UK, and Sydney, Australia to fulfill global demand. Orders within these areas usually require 2-3 working days for goods to be shipped.

We are also interested in collaborating with distributors and partners around the globe.
A cream charger can either be referred to as a nitrous oxide charger, N2O charger, or whip cream charger.
Whipped cream dispensers are also known as cream whippers, siphon, whipped cream canisters, or whipped cream dispensers.
Our main products are whipped cream chargers and whip cream canisters.
We manufacture and distribute whipped cream chargers mainly in 8g or 580g.
8g GreatWhip Cream Charger
This design of the cream charger has been in use for almost 60 years. Our 8g whip cream charger packs in a small canister making it versatile. Even with its size, the content inside has a great smell and doesn't leave any residue. It is compatible with most dispenser brands in the market today. You can order this cream charger whether you use our whip cream dispensers or any other popular brand out there.
This amazing product will save your cost of making desserts by obtaining 1.5X whipped cream out of basic ingredients compared to mechanical whipping. For instance, You can whip up to 0.75 whipped cream with only 0.5 liters of cream. No mechanical whipping process can improve your yield this much. This enables you to prepare enough cream for innumerable drinks and foods within a short time.
The 8g canisters can come in 24, 50, and 600 packs. This makes the 8g cream charger a suitable option for home and commercial use. You may choose from a variety of flavors, including mint, strawberry, original (unfavored), and others. To guarantee precise and consistent quantity, we weigh each capsule distinctively before packing to make sure it's 8 grams.
We manufacture our 8g charger using high-quality recyclable steel and our product is also HACCP approved.
580g (0.95l) GreatWhip Cream Charger
580g is a brand new product that was recently launched. Unlike the traditional cream charger, this new model comes filled with 580 grams of Nitrous Oxide. We have designed this cylinder to fill your dispenser quickly and aerate cream faster. This is because the 580 g canister has 70 times more gas. This makes Greatwhip 580 g cream charger a superior option to go for. Besides, you can adjust the pressure of gas entering the cream dispenser to enhance the quality. This way, you won't worry about your whip cream chargers or dispenser getting ruined by over-pressure. With this design, we provide a way to avoid bursting risks.
This revolutionary whip cream charger, which contains 580 grams of nitrogen oxide, is designed to make professional kitchen environments more efficient and manageable. It's certain to make the ordinary whisk and mechanical piping bag redundant.
The 580 Greatwhip cream chargers are high-production cylinders that contain 70 times more nitrous oxide. Unlike their traditional single-use counterparts, they give you higher performance and efficiency. The pressure regulator enables chefs the ability to calibrate the working pressure to suit their needs. This gives them utmost control and precision.
Cream charger Market Analysis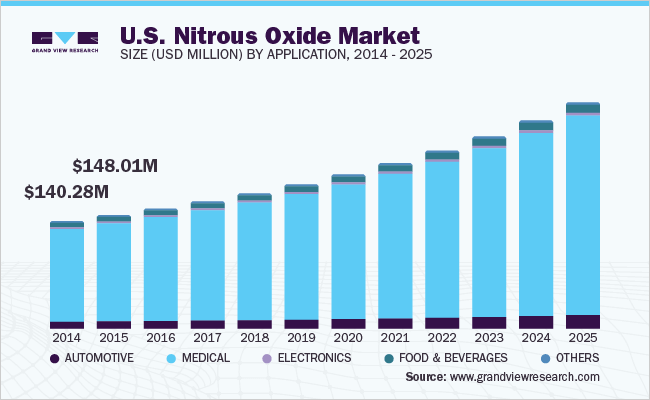 In 2018, the global whipping cream market was worth USD 5.98 billion. According to Grand View Research, this value is projected to increase at an 8.1% compound annual growth rate (CAGR), from 2019 to 2025. The key driver of whipped cream demand is an increased intake of confectioneries and desserts such as pies, cakes, ice creams, puddings, milkshakes, and sundaes.
Application Insights
Insights from the above research showed that B2B was the biggest application sector in 2018, accounting for over 55% of worldwide whipped cream revenue share. Due to the explosive growth of the bakery industry, the segment will continue to grow at a steady CAGR. It's also imperative that low-fat whipping creams will be in demand because of the skyrocketing demand for baked goods made of whole grains and all-natural ingredients. People no longer wish to consume desserts with added preservatives. Also, consumers have shown that they don't mind paying higher prices for high-quality, healthy food products. This is also a critical factor in the development of this segment.
Distribution Channel Insights
Due to its ease of use and availability, offline distribution channels contributed to the biggest revenue share in 2018. Additionally, the research showed that consumers prefer whipping cream fresh and without added preservatives. This proved to be the force behind product sales via offline channels such as supermarkets and retail stores.
We serve a wide range of customers comprising both wholesalers (B2B) and agents (B2C). As a leading manufacturer and distributor, most of our customers are mainly commercial (B2B) but we also serve retail customers. Our retail customer profile ranges from takeout stores, coffee shops, and convenience stores to restaurants and home users.

Wholesalers

We are your go-to supplier for you if you are interested in large quantities of whip cream chargers. Each month, we export approximately 15 containers to wholesale businesses in different parts of the world. Besides, many other wholesalers we serve often require us to offer OEM services. This is where we customize the cream charger bottle and outer packaging box to reflect the customer's logo and branding features.

Agent / Dealer/ Distributor

Our agents are proud to sell one of the world's qualities and efficient whipped cream chargers. Our products have become among the sought-after cream chargers and this will definitely boost your agency's success. We have agents in Australia, the US, the United Kingdom, and the European Union. We invite you to become one of our agents.

Retail customers

We sell our products in retail and wholesale on our online platform at greatwhips.com and through an independent online retail platform grtsupply.com. We cater to a wide range of retail consumers, including foodies and bars, major restaurants, coffee shops, and takeout shops.
OEM Service
We offer OEM services upon request to suit all your requirements. We can customize the cream charger aluminum bottle to match your brand's color and logo. We can also design the packaging according to your specifications.
We also offer the gas in a variety of flavors, such as mint, blueberry, and watermelon. Besides the regular 8g N2O canister, we also offer a 580g cream charger.

Excellent Customer Service
Please check out our cream chargers in confidence since we don't rest until you are satisfied. We have our customer service team available to assist you whenever you have questions or concerns regarding the purchase and use of GreatWhip cream chargers. Reach out to us and we will reply to your concerns within 24 hours.
Quick Delivery
To make sure that we meet the demands of our global customers, we have established warehouses at different places in the US, Australia, European Union, and the UK. It usually takes 2-3 days to deliver goods within these regions. Counting of delivery time starts as soon as the payment is clear.
Super quality
GreatWhip has modern automatic factory machines. We use our modern factories and 10 years of experience in the field to bring you unmatched quality. Our cream chargers use the best quality of pure nitrogen oxide (N2O) gas. You won't come across any oil, residue, or unpleasant odor when using our products.
All our cream charger models are super compatible with most dispensers out there. You can easily insert them on cream dispensers made by ISI North America, ICO, Nuvantee, and others.
Supernumerary productivity
Our company has the capacity to produce large orders within the shortest time. Our current production rate stands at 40,000,000 plus units per month. This allows us to handle large transactions comfortably.
Strong Facilities
Greatwhip is a cream charger expert who has operated in this business for over 10 years. With our expertise and modern equipment, we can provide the best solution.
Greatwhip is China's largest and well-known supplier of cream chargers. We have worked in the cream charger industry for over 10. We have built a modern facility and our engineers are among the most skilled professionals in this area. This makes us capable of producing over 40 million cream chargers per month using the most sophisticated automatic factory equipment. Our cream chargers are available in a wide range of flavors including strawberry, mint, lemon, blueberry, non-flavored, and watermelon. Besides the 8g canisters, we also offer a 580g cream charger. Greatwhip cream charger is loved by many for its high-quality, unadulterated nitrous oxide gas (N2O).
We build all of our products with carefully selected materials and make sure the designs and quality conform to international standards. They are ultra-clean, have no oil, feature a great smell, and leave no residue. We intend to work with distributors from different locations of the world. We plan to select new distributors based on States, countries, cities, or within each region.
Partner with us today and discover our hot-selling products. Our customers are always amazed at the high quality of our products and their cost-effective pricing.
Why Choose GreatWhipCharger?
By partnering with us today, you enjoy many benefits. When you join our distributor network, you gain the privilege of continuous access to our inventory. You will have access to inventory for orders involving both pallets and containers. We allow wholesale pallet orders as low as one pallet. We award huge discounts for advance pallet orders. We are looking for global distributors who are in a better position to serve customers within their regions.
The GreatWhip products in our stores feature consistent quality and weight. We are keen to use only the finest materials on our products. We also employ the highest engineering practices to bring you unmatched quality goods. In each of our products, we reflect more than 60 years of manufacturing experience. We also own various certification and compliance approvals for manufacturers: these include ISO19001, CE, FDA, and ISO45001.
Who are you?
We are interested in partnerships with dealers who meet the following basic requirements:
Be an active participant in at least any of the following business fields: life-saving equipment, food, and beverages, medical or cosmetic procedures.
Be registered with the appropriate tax authorities within your area and willing to prove it by producing the relevant documents if required.
Be ambitious and capable of handling high-order volumes. You should also be open to developing and sending us your business plan. We intend to see how our product supply will contribute to your business growth.
We are open to partnering with distributors and wholesale cream chargers around the globe. We also have exclusive rights to distribute to select companies based on your nationality and current status.