Mosa cream chargers are among the best on the market. They feature a new capsule standard with European quality.
Each capsule is a perfectly coordinated system that will help you realize your culinary creativeness. With these cream chargers, you can work on different recipes like whipped cream mousse, pina colada, chocolate mousse, and iced coffee among others.
These cream chargers are perfect for home and professional use.
Keep on reading to learn more about this brand and its product!
About the Brand
The brand was founded in 1988 and has operations based in Taiwan. Its CO2 and N2O cylinder mass filling started in 2004 and expanded its N2O production line in 2005.
The brand has one of the most amazing philosophies in the industry. The company puts its customers first and guarantees sustainable performance. Also, product safety is the company's number one priority.
As an industrial corporation, Mosa created a range of consumer-priced Mosa cream chargers which today are unrivaled in their quality and price. Mosa is indeed one of the world's largest producers of retail cream chargers as well as Mosa cream chargers wholesale supply.  
Why Choose Mosa?
This brand is one of the leading companies in the manufacturing of mini high-quality high-pressure N2O gas chargers. The Mosa brand is highly trusted by chefs in Europe and Asia.
The company does an outstanding job of encrusting each nitrous oxide cartridge to ensure that they are protected against rust and corrosion. This way, the brand can effectively preserve the integrity as well as the purity of the N2O in their cartridges. The brand wants to ensure that your whipped cream doesn't taste metallic.
This is exactly why many chefs in Europe, Asia, and across the globe turn to Mosa cream chargers.    
Mosa Cream Chargers Review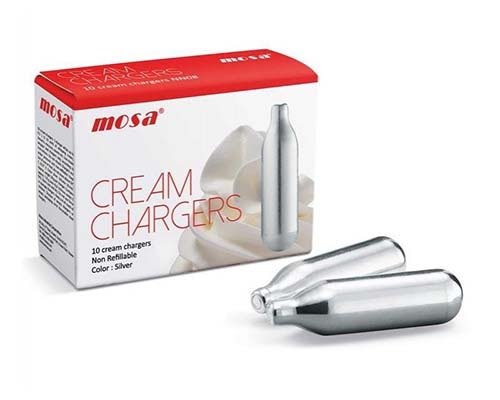 A 10-Pack of Mosa Cream Chargers.
Overview
The Mosa brand offers only the highest quality of cream chargers. These chargers have the highest level of purity, safety, and reliability in the industry. All the cartridges are 8g and are interchangeable. They are the benchmark for quality as well as reliability.
Product Features
Here are the features that make Mosa nitrous oxide cream chargers great:
Construction
Mosa N2O cream chargers are available in the 8g size, which means each cartridge provides you with 8 grams of nitrous oxide.
These chargers are manufactured in a state-of-the-art facility, guaranteeing a long shelf life and performance. The standard 8g cartridges fit all standard 8g whipped cream dispensers on the market without any additional investment. The chargers are silver lacquered to prevent rusting when exposed to kitchen moisture.
Unlike other cream chargers brands on the market that have cartridges of many different colors, Mosa 8-gram cartridges are silver in color with the brand name Mosa imprinted in the same color along the exterior circumference of the cylinder.  
Quality of the Nitrous Oxide Gas
The individual cartridges are filled with the purest food-grade nitrous oxide gas. Unlike conventional brands, Mosa cream chargers will not leave any awful metallic taste in your whipped cream neither will you find traces of factory residues.
Packaging
Mosa has a steadfast reputation for having the best packaging in the industry. The company's 8g N2O cartridges are properly sealed to prevent any leakages during shipping.
The cartridges come in a rectangular-shaped box with white face sides and red on the top side. The brand name Mosa is imprinted on each face side on the top left corner in small letters. There is a little "R" in a circle on the top right side of the letter "a" on the brand name Mosa, which indicates that a trademark of the brand has been registered in the United States for the cream chargers contained inside the box.
Just below the brand name on the longer side of the box, there is the label "CREAM CHARGERS" followed by the number of cream chargers in the box, the non-refillable notice, and the color of the cartridges. Warning and safety information are available on one of the short sides of the box.     
Each box can contain 10, 24, or 50 cream chargers.
Orders
Mosa 8g cream chargers can be ordered in small or large quantities. In small quantities, you can order a single box of either 10, 24, or 50 cartridges. A pack of 10 chargers costs approximately $12, a pack of 24 costs roughly $24, and a pack of 50 costs about $50.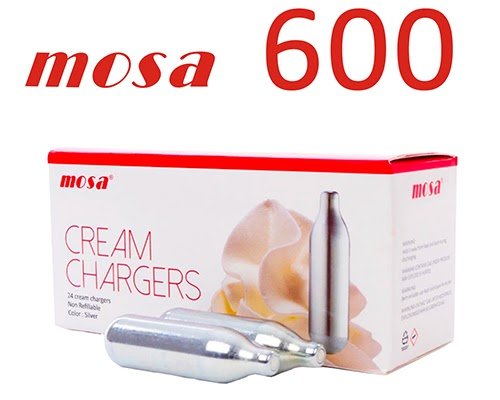 600 Mosa Cream Chargers.
Mosa cream chargers bulk buy can be in 24-pack or 50-pack boxes. The Mosa cream chargers wholesale prices, however, depend on the number of boxes ordered. The most popular wholesale package is the one that contains 600 cream chargers.
You can order in 24-pack or 50-pack boxes. If you order in 24-pack, you will get 50 boxes at approximately $315. If you order in 50-pack, you will get 12 boxes at approximately $313.
Quality Control  
High-quality Mosa whipped cream chargers are usually free of any factory residue and they contain the purest culinary-grade nitrous oxide that meets European standards.
These chargers can effectively preserve as well as keep whipped cream, foams, and sauces fresher for a longer period. They increase the longevity of your food by inhibiting bacteria growth. This is a good thing for both home and professional chefs because they can prepare food (such as whipped cream) in advance to save time.
You can effectively keep a mixture containing dairy and eggs fresh for up to a week as long as you make sure the whipped cream dispenser is airtight once you have charged it with a Mosa cream charger.
In addition to providing you with the best-whipped cream, whipped sauces, and foams, Mosa also aims at helping you preserve your food items longer.
Safety Measures
Freeze Burns
The most important thing to remember when using cream chargers is the fact that they contain highly pressurized nitrous oxide gas.
In its pressurized form, the gas can cause serious freeze burns. So, always wear a protective glove when pulling a cartridge out of the box just in case it is leaking. Do not puncture the cartridges because they get very cold and can cause freeze burns.
We strongly urge you to immediately consult a physician when you suffer freeze burns.
Compatibility
Although Mosa cartridges are claimed to have universal compatibility with all standard 8g cream whippers on the market.
Always make sure that you are using an approved device and follow the manufacturer's guidelines. It is also important to ensure that your whip cream dispenser doesn't leak any gas to avoid freeze burns.
Recycling
Mosa N2O cream chargers are non-aerosol (cannot be sprayed) or non-refillable (cannot be refilled after the gas has been ejected).
But they have 100 percent recyclable steel construction, which means that they are safe for collection. Never, however, dispose of cream chargers that are full of nitrous oxide. Always make sure that they are empty.
When using a cream whipper, for example, you will know the gas has been released and the cartridge is empty when you hear a whooshing sound.  
Misuse
Mosa N2O chargers are not available for people under 18 because they could easily misuse the product. Avoid using the product recreationally to avoid serious health consequences like euphoria, hypoxia, low blood pressure, and B12 deficiency among others.
Also, remember to keep out of reach of children to keep them safe from freeze burns.