1.Ultra-Purewhip Cream Chargers
Ultra-Purewhip Cream Chargers.
Company Overview
Ultra-Purewhip cream chargers are from Waterline Marketing. The company is located in Southwest Florida. It also has locations in California and the United Kingdom.
This great brand opened its doors in 2001. The main objective of the company is to provide hard-to-find culinary items to customers.
Ultra-Purewhip cream cartridges truly provide premium quality nitrous oxide that has been tested and certified. Ultra-Purewhip chargers are compatible with all the popular standard 8-gram systems in the market.
Business Scope
The business scope of this brand includes the production of 8-gram whip cream chargers. The cartridges are available in a box of 24 and a box of 50.   
2.  Special Blue Whipped Cream Chargers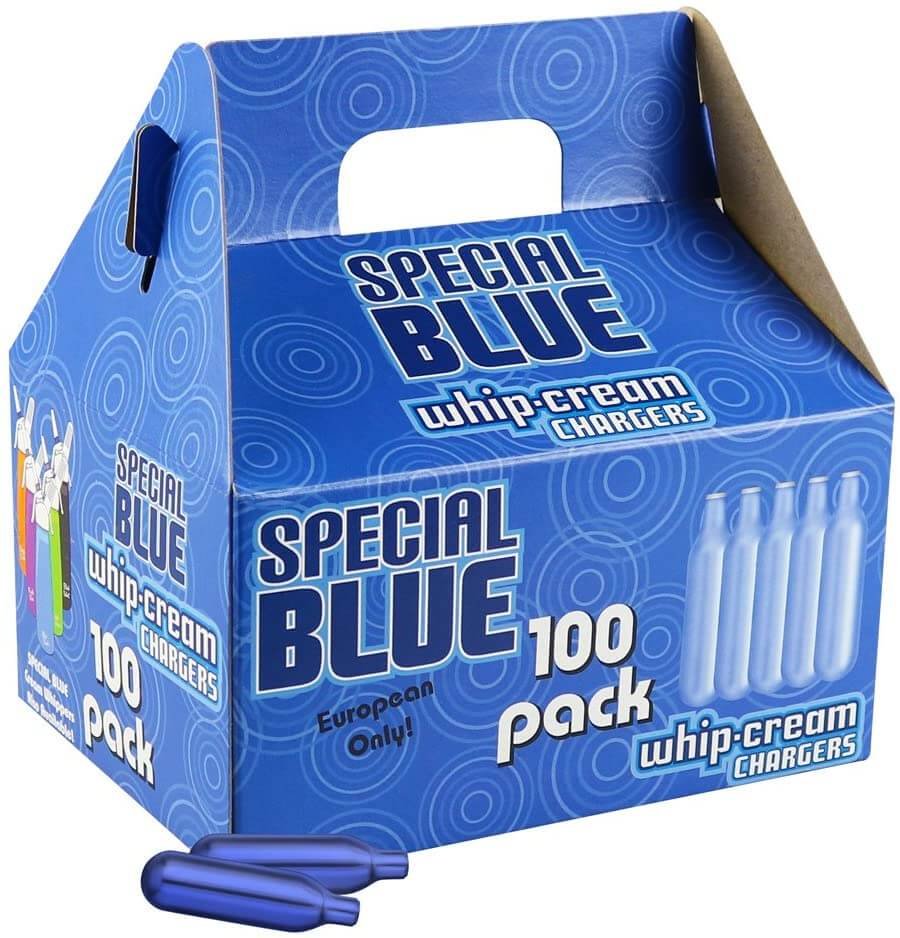 Company Overview
The brand was carefully created to bring peace of mind, comfort, and enjoyment to families.
Special Blue whipped cream chargers go through a thorough inspection. The brand uses heavy-duty blue medical-grade stainless steel to construct the cartridges for extended shelf life. It supercharges its cartridges with pure nitrous oxide for the best results.
The company takes great pride in bringing the purest food-grade nitrous oxide to the market that meets tough regulations for production and packaging.
Business Scope
The company is well-known for the manufacturing of whipped cream chargers, candles, room sprays, car fresheners, torches, and lighters.    
3. GreatWhip Cream Chargers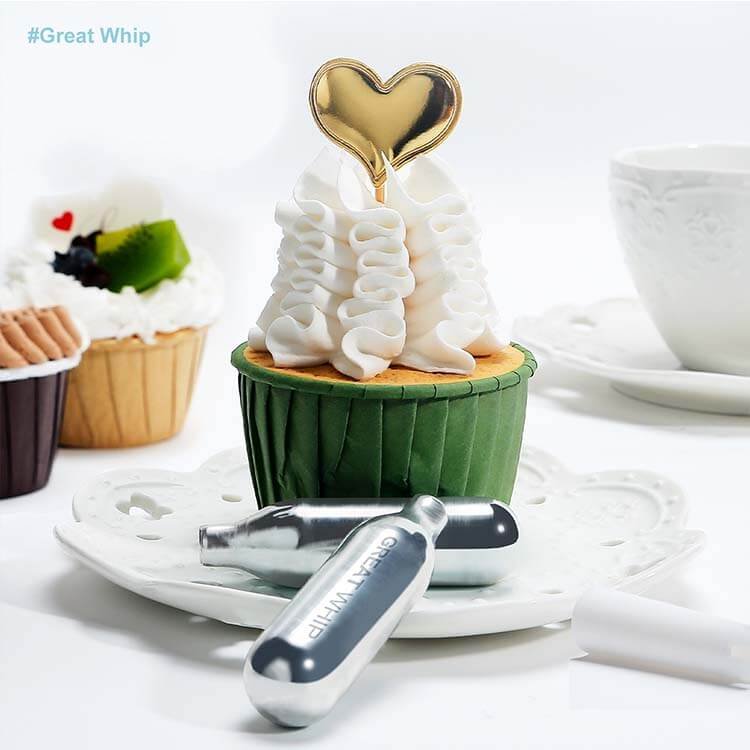 GreatWhip Cream Chargers.
Company Overview
Apart from being the most popular supplier of cream chargers from China, this great company has more than a decade of experience in the industry and five international certifications.
GreatWhip can manufacture over forty million pcs in a month thanks to its fully automatic state-of-the-art automatic machines.
This great company offers a full range of flavors, including banana, watermelon, blueberry, strawberry, and mint among others. The brand also offers 580-gram cream chargers.
GreatWhip produces some of the world's best-whipped cream chargers that are filled with the purest, premium quality nitrous oxide available.
The brand's main objective is to work together to meet customer needs by providing unsurpassed quality.
Business Scope
GreatWhip is the leading producer of whipped cream dispensers, nitrous oxide whipped cream chargers, and soda siphons.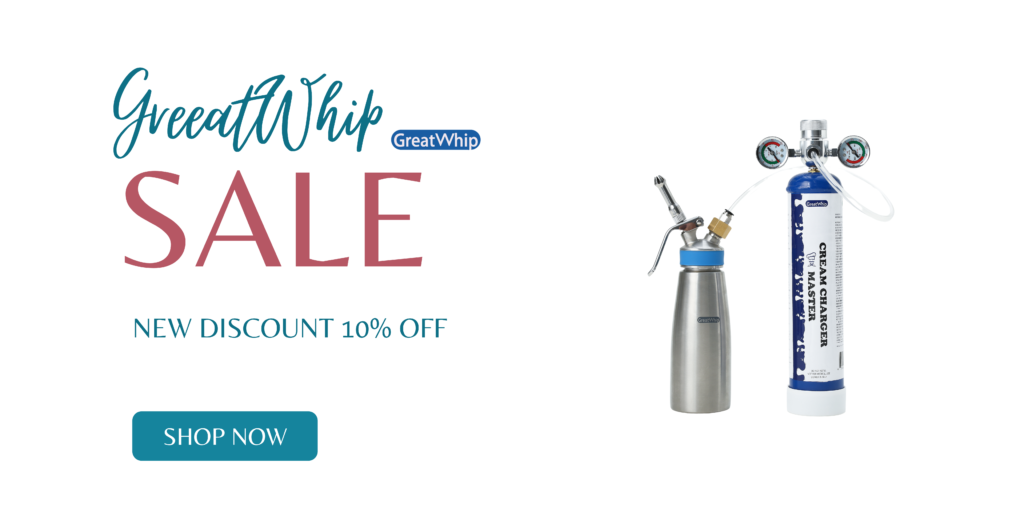 4.  ISI Professional Cream Chargers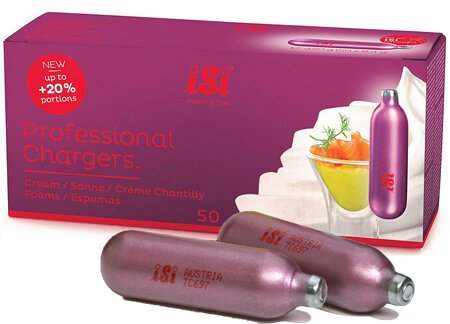 ISI Professional Cream Chargers.
Company Overview
You can easily realize your culinary innovativeness with ISI Professional cream chargers. With its new capsule standard, the company brings you premium quality from Austria.
ISI Professional main objective is to help your imagination run wild by providing you with the best tools and materials for culinary creativeness.
As an Austrian company that is highly specialized in the production of whipped cream cartridges, ISI Professional has stood for quality, trust, and safety for about fifteen decades.
ISI Professional provides the right product for every hobby and professional cook. The company provides creative inspiration and outstanding functionality for decorating and serving.  
Business Scope
ISI Professional has a good reputation for manufacturing nitro chargers, soda chargers, professional chargers, whippers, and siphons.
5.  Foma Gas Whipped Cream Chargers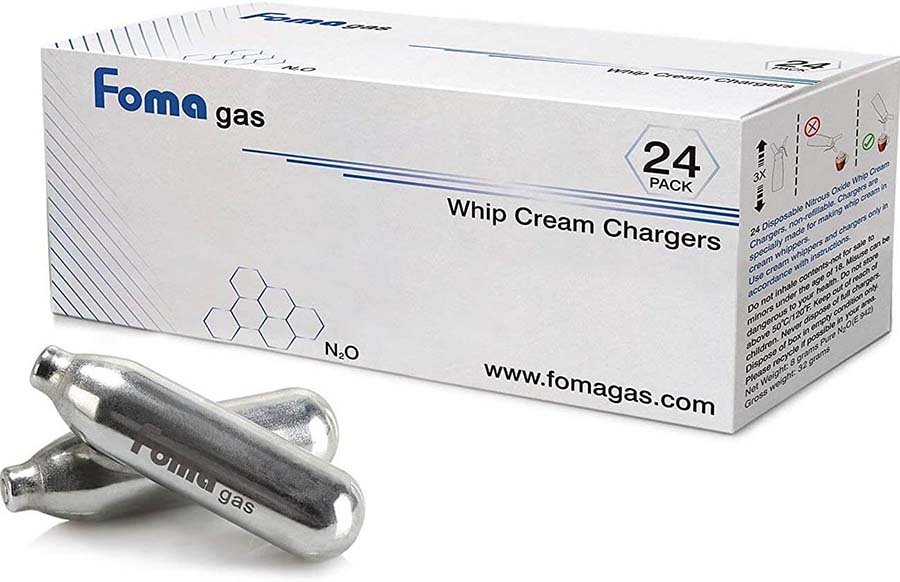 Foma Gas Whipped Cream Chargers.
Company Overview
Foma Gas is a leading brand that specializes in the production of some of the world's best whip cream chargers.
The culinary-grade compressed gas from this company brings you new cooking concepts and ingredients. You get to improve your food-making experience.
Foma Gas whip cream chargers are designed to work with whipped cream dispensers of any brand available in the market.
Business Scope
The brand is mainly specialized in the manufacturing of whipped cream chargers. It offers several wholesale value packs.
6.  Creamright Ultra-Purewhip N2O Whipped Cream Chargers
Creamright Ultra-Purewhip N2O Whipped Cream Chargers.
Company Overview
Creamright UItra-Purewhip N2O cartridges are European manufactured, which is great because they meet the most stringent sanitation and health standards in the industry.
The chargers originate from the same European factories as the high-end and more expensive companies. These chargers are available at an incredibly low price. The brand's cartridges have been the industry standard for the highest quality and super clean nitrous for a decade.
If you're looking for European-made, premium quality cartridges at a value price, then this is the right brand for you.
Business Scope
Creamright deals with N2O whipped cream chargers, soda siphons, whip cream dispensers, and Co2 cartridges.
7.  Chef Master N2O Whipped Cream Chargers
Chef Master N2O Whipped Cream Chargers.
Company Overview
Chef Master N2O whipped cream cartridges are designed in the United States and factory-made in Europe to guarantee superior quality.
Only the most premium quality cream chargers are manufactured by this brand and that's why it is trusted by families, cooks, and chefs across the globe. Chef Master cartridges are 100 percent free of factory grime and machine grease, thanks to the brand's special cleaning process.
Chef Master N2O whipped cream chargers work with all brands of cream whippers. But the company recommends that you use the chargers with Chef Master whipped cream dispensers for the best results.
Business Scope
Chef Master designs and manufacturers whipped cream chargers and dispensers, salad dryers, seasoning and butter rollers, can openers, and other kitchen items.
8.  MS Cream N2O 8 Gram Cream Chargers
MS Cream N2O 8 Gram Cream Chargers.
Company Overview
The MS Cream brand brings your culinary imagination and innovativeness to life with its high-quality N2O 8g cream chargers.
The aluminum whip cream cartridges are triple-filtered for taste and safety. A single charger can whip up to one pint of delicious cream. A single box contains 24 capsules. The brand has four item package quantity options, including 24, 48, 120, and 240.
Business Scope
The MS Cream brand is specialized in the production of cream whipper chargers in different package quantities.
9.  Blue Flag Whipped Cream Chargers
Blue Flag Whipped Cream Chargers.
Company Overview
The Blue Flag brand always stands at the forefront of the industry. It is committed to improving consumer experience and product quality. The brand has an overseas warehouse in the US.  
Blue Flag whipped cream chargers provide lips-smacking mint flavor with each drop. If you love creamy foodstuffs, tasting the mint-flavored whipped cream allows you to experience a refreshing taste and natural and unique fragrance.
Whipped cream chargers from this good brand are free of chemicals, grease, and fragments. The cartridges are fitted with a proprietary closure system or capping to ensure that the gas doesn't leak during its shelf life.
With Blue Flag mint flavor cartridges, you can prepare a variety of mouthwatering foods.
Business Scope
The Blue Flag brand is mainly specialized in the production of N2O whipped cream chargers.
10.      SupremeWhip Whipped Cream Chargers
SupremeWhip Whipped Cream Chargers.
Company Overview
These amazing whip cream chargers are manufactured by Commerse Enterprises Inc. that is based in the United States. The brand is also present in Australia, Europe, Canada, and Asia.
The company imports premium branded products from the most experienced and specialized manufacturing facilities. So, you should expect superior quality whipped cream chargers from this great brand.
Business Scope
The company deals with cream chargers, whipped cream dispensers, and accessories. 
Benefits of Whip Cream Chargers
The best whip cream chargers provide several benefits for you. Here are the most important reasons why I like using whipped cream chargers.
Does Not Spoil the Whipped Cream
Nitrous oxide (N2O) gas can ease your pain and help you relax when you have dental issues. But most importantly the gas mixes easily with the cream without spoiling it. It does a great job of propelling the cream when you are ejecting it out of the whipper. Unlike nitrogen gas, nitrous oxide gas has great aerosolizing properties.
Whipped Cream Nitrous Oxide is Food-Graded
All popular brands use nitrous oxide with food-grade compliance. Culinary-graded N2O is recommended because its effects on the taste of whipped cream are negligible to none. Food-graded nitrous oxide is usually pure and free of greasy residue and factory fragments. Culinary-graded N2O make homemade cream lips-smacking and fun to prepare for all.   
Nitrous Oxide is Highly Fat Soluble
One of the things I like most about whipped cream chargers is the fact that the N2O gas is highly fat-soluble. In whipped cream dispensers, it is easily dissolved in the fatty compounds of the cream until it completely leaves the dispenser. This feature usually converts about 0.5 liters of liquid cream into 1.5 liters of whipped cream. Unlike oxygen, nitrous oxide doesn't speed up the rancidification of the fat in the cream.
Whipped Cream Chargers Add Flavor to the Cream
Guys did you know that the best-whipped cream chargers brands, including GreatWhip, have introduced mint-flavored cartridges into the market. This new flavor produces a natural and unique fragrance that is refreshing with every drop of whipped cream. I would welcome new flavors if the brands will have it so like French vanilla, strawberry, and maple – yummy!
Have Universal Compatibility
I don't know about you but I haven't come across a brand that is not compatible with my cream whipper. I use a GreatWhip cream whipper that is compatible with all standard 8g N2O chargers. So, I rarely worry about a cartridge not fitting on my dispenser charger holder.
The Gas Has No Expiration Date
I checked the box in which my cartridges are packed and I was amazed to see that there is no expiration date. I also checked the individual cartridges, no expiration date. That sounds great, right? Just make sure the cartridges you receive have a closed system or capping for preventing leakages when storing the chargers over longer durations.
Helps Keep the Cream Fresh Longer
I didn't think it was possible at first until I tried it. I used a single charger to pressurize my cream. But I couldn't finish the whipped cream. So, I stored the whipped cream dispenser with the cream and gas inside in the refrigerator for a few more days until I could finish the whole bottle.
Whip Cream Chargers are Environmentally Friendly
This is one of the good things about whipped cream chargers from the aforementioned brands. They are made from 100 percent recyclable materials. So, disposing of them is not much of a problem.
Things to Consider Before Buying a Whip Cream Charger
This roundup of the best whip cream chargers brands clearly tells you that there are many choices of cream whipper chargers in the market.
But you cannot know for sure which brand and model are best for your cream whipper until you do some research. Lucky for you I did that on your behalf and here are a few important things I urge you to consider before buying.
Compatibility
This is by far the most important consideration when you are out there looking for whipped cream chargers. Make sure the product you choose is universally designed to work with all standard 8-gram N2O cream systems. Universally fitting cartridges will allow you to use almost any cream whipper in the market.
Ease of Use
The cartridges you selected are compatible with your cream whipper. But how easy are they to use? They should be super easy to set up into the charger holder. It should also be easy for the piercing pin to pierce the foil covering.
Capacity
Each whip cream charger, regardless of the brand, is designed to hold 8 grams of nitrous oxide. The chargers also conform to about the same shape and size.
So, when looking at capacity you shouldn't be more concerned about the gas inside the cartridge but the package quantity.
Whipped cream cartridges are sold in packs, which range in capacity from 24, 50, 120, 300, to 600 chargers. For a home cook, I would recommend a capacity of 24 chargers per pack. That capacity will help you make whipped cream for a considerable period.
But if you are running a business, you should consider more economical capacity or package size. A capacity of 300 to 600 chargers is a good deal. This way, you will not have to buy chargers every now and then. You also get to save money when you buy value packs.
Recyclable
It's easy to know whether or not the cartridges are recyclable. The information is normally listed on the labels (such as 100% recyclable stainless steel). Disposing of these types of cartridges is easy.
Instead of throwing them away and littering the environment after they have been pierced, you could simply dispose of them at a steel recycling facility. You will be doing your environment a big favor.
Comfortable
Comfortability is a great deal when using cream whippers and chargers. Buy cartridges that fit comfortably in the charge holder. The N2O inside each charger must be pure for the best results when creating whipped cream.
Price
You've finally found the best whip cream chargers that meet your specific requirements. Do you have the budget to buy them? There're a few things you have to consider when looking at the price.
At what scale are you planning to use the cartridges?
Small-scale use, such as topping desserts, pie, and coffee at home would only need a small package quantity that is cheaper. You can consider a 10-pack at approximately $15, 24-pack at about $18 to $26, 50-pack at around $30, or even a 100-pack at approximately $50 to $60.
Large-scale use, such as in a restaurant would require you to consider bulk packages to be able to save on money in the long run. You can consider a 200-pack at around $90, 300-pack at about $130, 400-pack at approximately $180, or a 600-pack at about $200 to $250.   
The prices also differ from one brand to another. GreatWhip, for instance, has the most reasonable price ranges without sacrificing quality and leak-proof performance.
Safety Measures When Using Whip Cream Chargers
It doesn't matter how good you're in the kitchen, you must always be cautious around high-pressure nitrous oxide gas. Here are a few reminders that will help you stay safe when using these little food-grade N2O canisters:
Don't use more than one cartridge in a 1/4-liter or 1/2-liter whipped cream dispenser. Also, don't exceed two cartridges when using a 2-liter cream whipper.
Don't remove the whipper head after you have pressurized the canister to avoid accidents and messing up your kitchen.
Always check to confirm that your whipper is not leaking N2O. Leaking nitrous oxide can cause freeze burns. I urge you to fix the problem before you continue using the dispenser. It could be a dirty head gasket or a failing dispenser head.
Always clean each part separately to remove any residue. This will help prevent any gas leaks in the future.
Consult a physician immediately you are exposed to freeze burns.  
Conclusion
There you have it cooks, a list of the top 10 best-whipped cream chargers brands you can buy from. We have also provided you with the business scope of each brand, just in case you wanted to buy something else from them.
Choose GreatWhip, the leading manufacturer of whip cream chargers and dispensers. Find out more at greatwhips.com.