With over 10 years of experience in the field of gas charger manufacturing, GreatWhip has become one of the leading whip cream chargers manufacturer in China.
60,000m² Production Plant.
1,300,000 pcs/day Manufacturing Capacity.
TUV, CE, ISO45001, ISO19001, and ISO24001 Certified.
Best Cream Chargers Wholesale Prices.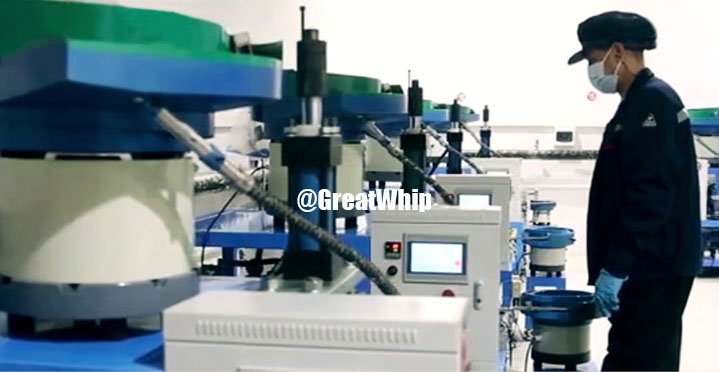 GreatWhip provides Wholesale/ OEM whip cream chargers services including Logo & packaging design and stands out for its high-efficiency local warehouse and delivery system.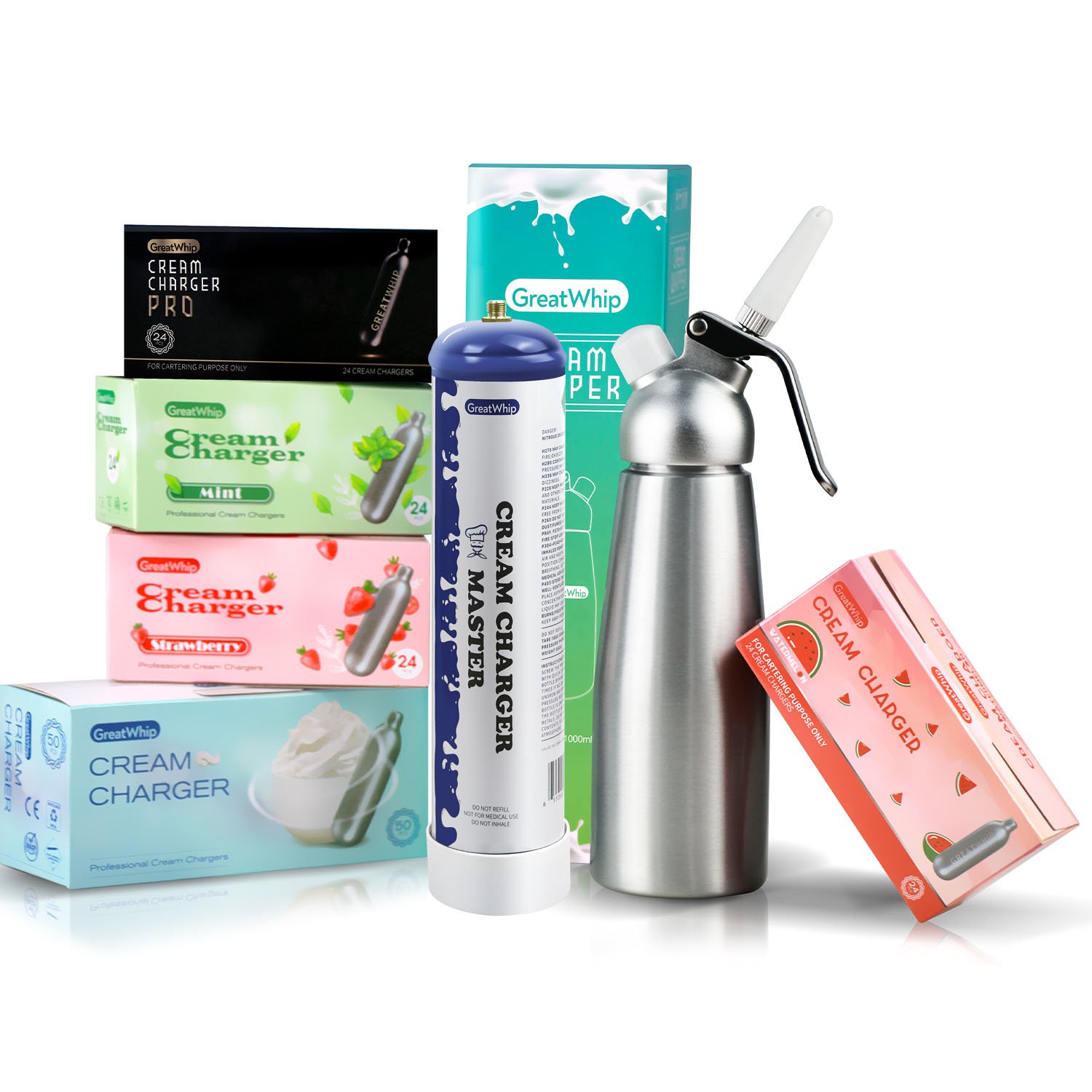 8G Cream Chargers Wholesale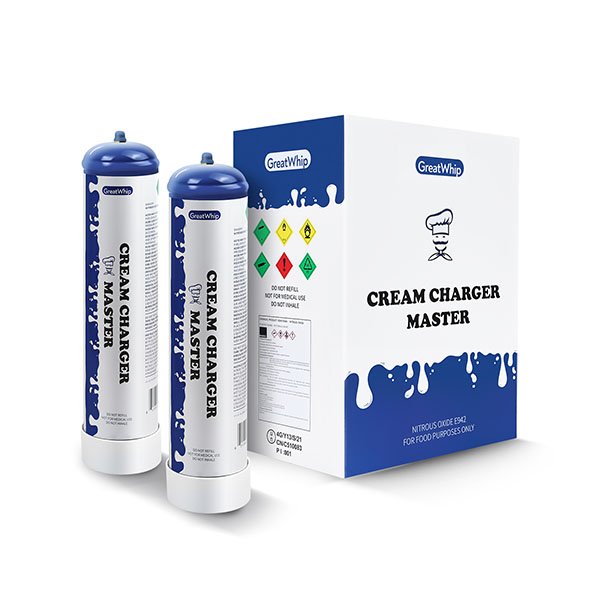 580g/615g Nitous Oxide N2O Tank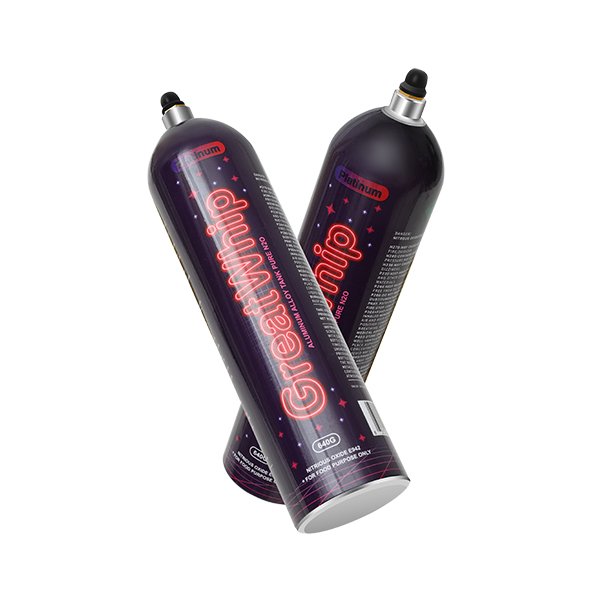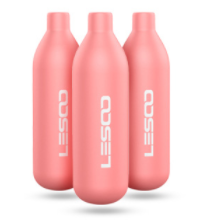 Spray Painting Cream Chargers
Client Concept: Brand & Design
We will put together a team of specialists to realize your idea. You are able to customize your cream chargers brand with different colors and finishes of bottles, etc.
Manufacturing and QC
Our ISO-certified production facilities ensure excellent processes, from whipped cream chargers product implementation to quality checks.
GreatWhip
Leading Cream Chargers Manufacturer
Packaging and Shipping
We have facilities located in China for global service and logistics for shipping. From packaging to storage, we're able to provide the best one-step services.
After-sales Support
Our team continues to support you when you receive your great whip cream chargers. Feel free to contact us for further questions.
we're here to get your quote
Email: info@grtsupply.com
Webshop: www.grtsupply.com
Warehouse base on US/UK/AU/DE/BE
24/7 Service, Reply in a hour
Our customers are satisfied
"I would highly recommend this company! They are trustworthy, their customer service is fantastic, and they always deliver on time. Thank you for the great experience!"
Theo James
"Very satisfied with the service of the GreatWhip cream charger team, very enthusiastic, very happy to be the US agent of GreatWhip!"
Emilia Munro
"Highly recommend, did the job great! Worked quite a bit better than mosa cream chargers wholesale I've tried, and it seems to whip it a lot better!!! What a life-changing app!"
Branden Griffiths
we're here to all your questions
GreatWhip answers your questions about cream chargers wholesale services, providing satisfactory and supportive services
You can get good cream chargers bulk buy deals from different brands online. You just need to consider a few things during your search to make sure that you are receiving high-quality N2O cartridges. Here's what you should take into account:
Pure Nitrous Oxide Gas 
You may get some cream chargers bulk buy deals at conveniently low prices just for you to discover that their canisters don't contain pure food-grade nitrous oxide gas. Contaminated N2O chargers usually contain oil and metal residue. So, make sure you confirm the quality before you buy.  
Leak-Proof Design 
When buying cream chargers in bulk, it is possible to receive duds probably because the chargers don't have a leak-proof construction. This is usually a problem with conventional brands. But you will hardly experience duds when you consider a cream chargers bulk buy from renowned brands in the cream charger industry like GreatWhip, Mosa, and ISI among others.   
Compatibility 
Not unless you are buying the cream chargers for retailing purposes, you need to make sure that they are compatible with your cream whipper. The supplier may fail to tell you this. So, it is up to you to confirm before you make a cream chargers bulk buy. 
Free Shipping 
This is a very important consideration when you are planning to make a cream chargers bulk buy. Shipping is usually free when you make a significantly large bulk order that exceeds a certain amount of money. So, do your homework and find out which brand has the sweetest deal as far as free shipping goes. 
Are There Any Exotic Flavors to Consider? 
You can use food-grade nitrous oxide cartridges together with special taste beads to improve the taste as well as the flavor of your drinks and cocktails. So, find out if there are any flavors available for the cream chargers you are buying in bulk. Some great flavors include pineapple, watermelon, and passion.  
As far as cream chargers are concerned, whip cream chargers wholesale are economical. Buying in retail or small quantities could cost you more per unit.  
Wholesale cream chargers are economical for people or businesses that use cream chargers more frequently. A home that holds big parties more often or a coffee shop with lots of customers, for example, can save a significant amount of dollars when they buy wholesale.
One of the best things about buying whip cream chargers wholesale is free shipping and next-day delivery.
Free shipping on whip cream chargers wholesale orders will help streamline your online shopping experience, considering that there is a significant amount of the overall cost that has been cut down for you.
A smooth and more economical experience will allow a business owner to make more profit with each batch of cream chargers he or she orders. The sweetness of buying cream chargers in bulk doesn't end there. You've also got next-day free delivery.
When you buy whip cream chargers wholesale you can create a good relationship with the supplier. Your transactions record could make the supplier consider you as one of their most valued customers. So, if there is any kind of promotion on offer you will be one of the first customers to be considered.  
The relationship could get even better if the supplier is also the manufacturer of the wholesale cream chargers. Some of the most popular brands like GreatWhip, Mosa, and ISI could offer you great deals and a fast shipping experience when you buy whip cream chargers wholesale.
Not to mention that when a supplier strips fulfillment chargers from the equation, he or she helps increase your confidence as well as ease your reluctance to buy. This helps you refrain from buying from conventional brands that do not offer premium quality nitrous oxide chargers.
The use of bulk cream chargers is mainly recommended for culinary purposes like creating whipped cream, topping desserts, making lip-smacking concoctions, and so on.
But these products are not directly legal for recreational use because of the severe medical cases that have been reported. It's completely illegal for any individual under 18 years old to buy cream chargers in either retail or bulk. It is not illegal, however, for an adult to buy bulk cream chargers.
But there is a cap that limits what a retailer and wholesaler can buy from the same supplier in any fourteen-day period. Some suppliers will not sell over 240 bulk cream chargers to a residential address or retail customers in the period of fourteen days. The same suppliers may also not sell over 600 N2O cartridges to a wholesaler in a fourteen-day period.
The suppliers usually reserve the right to make adjustments to the limit. You might even get banned from buying from a given supplier if you make attempts to order more than what is allowed. A larger business, however, can directly contact the manufacturer to apply for a wholesale account application. This will allow you to buy bulk cream chargers without worrying about breaking the law.    
You should know that the manufacturer or supplier could cancel your bulk cream chargers order whenever they suspect any abuse of the product, such as recreational use for people under the age of 18 years.
In some cases, large shipments of nitrous oxide chargers could be confiscated by the authority, depending on the laws of that country concerning the purchase of cream chargers.
What we recommend you to do is learn of any rules that don't allow the importation of cream chargers into your country or state. And always read the terms and conditions of any manufacturer's or supplier's website concerning bulk buying of N2O chargers.  
Our distributor
the best welcome
Our distributor for Sweden and Norway Martket.
If you have demand in Sweden and Norway, contact MediHealth Sweden directly for a faster and more convenient transaction process.
Ready to Become
our partners?